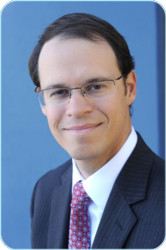 I believe in honoring our past while moving and evolving toward the future, and I plan to lead this organization to even greater levels of success.
Las Vegas, NV (PRWEB) March 13, 2012
After more than 40 years of strong and steady guidance, Multipure co-founder and President, Alvin Rice, has stepped down from his leadership role to let his son, Zachary Rice, assume the mantle as the new President of Multipure.
An MBA from the University of Southern California, Zachary Rice has over a decade of experience in manufacturing, information technology, engineering, and sales. In recent history, he has handled a greater amount of Multipure's daily operations in his role as Executive Vice President. Zachary Rice is directly responsible for advancements in Multipure's operational capabilities, and is the architect behind Multipure's launch of manufacturing and sales channels in China. He believes that the leadership transition will progress smoothly, stating, "Without the hard work and vision of my father, Alvin, and uncle, H. Allen, Multipure's innovative solid carbon block filter technology would not be available throughout the world as it is today. Multipure is the industry leader in point-of-use water filtration, and it is my privilege to continue the tradition of quality, innovation, and integrity, and help our customers and distributors attain the opportunity for better physical and financial health. I believe in honoring our past while moving and evolving toward the future, and I plan to lead this organization to even greater levels of success."
Alvin Rice will continue in an advisory role as Multipure's Chief Operations Officer, and is confident in his son's abilities as President of Multipure. "Zachary has grown up in this organization, and has worked to learn and understand this company and this business model since he was a child. I was just 22 years old when I started this company with my brother, and I couldn't be prouder to see Zachary lead the next-generation Multipure. There is no one as qualified, as insightful, or as knowledgeable of this company and this industry as Zachary, and he is developing some amazing new products and new opportunities for Multipure. I truly believe that the next several years for Multipure will see growth exceeding the previous 40 years."
Multipure co-founder and Chief Executive Officer, H. Allen Rice, believes that Multipure's spirit of innovation will continue to flourish under Zachary Rice. "Alvin and I built this company on innovation and opportunity. Innovation led us to create our solid carbon block filter, innovation led us to establish our network marketing opportunity, and innovation is what will continue the success of this company. Multipure, and Multipure innovation, is in good hands with Zachary. He's been ready for this for some time, and Multipure will only grow stronger under his leadership."
Founded in 1970, Multipure is an industry leader in the manufacture and distribution of drinking water systems and compressed solid carbon block filters. Headquartered in Las Vegas, Nevada, Multipure employs over 200 people, and is committed to being an eco-friendly company that provides the people of the world with the best quality drinking water at an affordable price. Multipure is a member of the Water Quality Association, the Direct Selling Association, the Las Vegas Chamber of Commerce, and the Better Business Bureau.