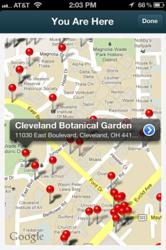 Cleveland, Ohio (PRWEB) March 14, 2012
Visiting and experiencing University Circle just got easier. University Circle Inc. (UCI) launched a new University Circle app for iPhone. One of the first and most interactive Travel apps around, the new University Circle app will provide visitors an easy-to-use navigation and informational guide to the one of the world's most unique destinations.
"The University Circle app is a fantastic tool for the hundreds of thousands of people who visit University Circle each year," says Chris Ronayne, president of UCI. "We're actively on the airwaves with our advertising and recently launched an updated website to promote our destination. Our new app perfectly integrates with our daily efforts to make every visit to University Circle a memorable one."
The University Circle app, designed by The FORM Group, includes various features that will bring University Circle to life on your iPhone:

Instantly locate, up-to-date information, photos, and maps on hundreds of locations in University Circle, including museums, restaurants, galleries, schools, entertainment, and shopping venues
Easily find interesting places within walking distance of your current location with the "You are Here" feature
Discover what's happening right now, this weekend, or next month with a simple tap on the screen
Create a personal list of favorite places and events with the ability to check-in and see what's happening next at your favorite museums, restaurants, or entertainment locations
View the latest photos and videos posted around University Circle
For additional information about the University Circle app, including screenshots, features, and a link to download the FREE app, please visit universitycircle.org.