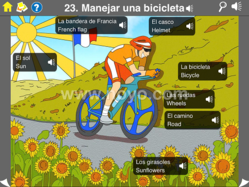 The future of education is here now with the iPad and other tablets changing the way information is taught.
Boston, MA (PRWEB) March 13, 2012
The new iPad 3 features retina display to make images sharper and colors brighter. http://www.n oyo.com [Noyo Spanish __title__ Noyo Spanish Language Learning App], a breakthrough language learning app, features gorgeous and engaging illustrations perfectly suited to this sort of display. Noyo prides itself on linking Spanish vocabulary to top-notch illustrations and audio and welcomes the iPad 3 as an opportunity to show off its best features.
"We are in the midst of an important, technologically induced educational reformation the likes of which the world has not encountered since the advent of the printing press," said co-founder of Noyo and Chief Learning Officer, Mike Sullivan. "The future of education is here now with the iPad3 and other tablets changing the way information is taught. Noyo's Picture Perfect Language Learning platform works seamlessly with any tablet, making learning new Spanish vocabulary a cinch."
Noyo Spanish isn't like other vocab-building apps. Instead of rote memorization and dry flashcards, app users will go on a journey through engaging, lively scenes, peppered with key vocabulary items and useful phrases. Learning is reinforced by linking vocabulary with visuals, vibrant audio, and associated terms. The app features upwards of 1800 Spanish words and phrases in nearly 200 custom-illustrated scenes, reinforced by professional audio. All of that is information that students can take home with them, engage with in the classroom, or learn on the go.
"Noyo's graphics will be great on the iPad3," said Ted Chan, CEO of Noyo. "It is a visually appealing Spanish language-learning app that were also fun and engaging."
The Noyo curriculum introduces vocabulary in context to provide a strong foundation for language learners. Individual words are embedded in relevant scenes, and humorous phrases tie them all together and show the vocabulary in action. Noyo Spanish is organized into eight vocabulary units, each with its own set of assessment questions to test user progress.
Features of Noyo's Spanish app for the iPad include:
--Over 1800 vocabulary words, each reinforced by supporting audio, visual representation, and written translation
--194 custom-illustrated scenes, packed with friendly characters and amusing scenarios
--Audio by a professional voice artist who is a native Spanish speaker
--8 targeted units, featuring vocabulary related to:
Food
Travel
The City
House and Home
Seasons
Animals
School
Sports
--Built-in assessment questions at the end of each unit
--Intuitive, user-friendly navigation system
--Available in Spanish, with other languages including English-as-a-Second Language, French, Spanish, and Portuguese coming soon to iTunes
The Noyo Spanish app is available at an introductory price of $7.99 for in the iTunes app store. More information can be found at http://www.noyo.com.
Noyo is a startup headquartered in Boston, MA. It is dedicated to providing engaging, cost-effective, high-value learning apps to language learners of all ages.
###