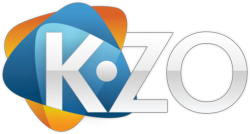 This is an exciting time for KZO Innovations. We want to make the KZO Business Video Suite more accessible and now that we have increased self-service options, businesses of all sizes can explore the technology and see exactly what makes KZO unique," said
Reston, VA (PRWEB) March 20, 2012
KZO Innovations (kzoinnovations.com), an industry leader in business video hosting and collaboration, today announced the launch of its new eCommerce platform. Now, when users sign up to trial the KZO Business Video Suite, they are given full access to KZO's Pro Plan, KZO's most popular option. Additionally, users have the option of purchasing the KZO plan of their choice through the eCommerce platform at any time during their trial. Businesses looking to test out KZO's platform before committing to an enterprise solution will also benefit from the new pricing plans, with the lowest plan starting at $49 per month.
"This is an exciting time for KZO Innovations. We want to make the KZO Business Video Suite more accessible and now that we have increased self-service options, businesses of all sizes can explore the technology and see exactly what makes KZO unique," said Wes Cruver, Chairman and CEO of KZO Innovations.
Trials users of the KZO Business Video Suite will have the opportunity to utilize all of the features that come with KZO's Pro Plan, allowing businesses to create professional quality video and upload to their sites within minutes. The features that come with the Pro Plan include: tagging, collaboration, content and video creation. The free trial period runs for 15 days, but users can easily and seamless convert their plan and continue using the KZO Business Video Suite at any time. However, for businesses looking for enhanced security options or integration with leading Learning Management Systems, the enterprise option is recommended and can be fully explored upon contact with KZO.
"Launching this eCommerce platform will make KZO more accessible, especially for those looking for a variety of self-service options," said Peter Monahan, Vice President, Marketing of KZO Innovations. "This trial has given countless professionals the opportunity to utilize the innovative video technology that the KZO Business Video Suite has to offer".
About KZO Innovations, Inc.
KZO Innovations is the leading provider of social collaboration software for business video. The KZO Business Video Suite is being used by fortune 500 companies and government agencies to securely "Create" or upload video from any computer, "Share" video within any CRM, LMS, web portal or as a stand-alone video portal, and "Socialize" video by engaging viewers - letting them add comments, ask questions and get answers. KZO's interoperability with leading collaboration portals and learning management systems, including Salesforce and SharePoint, enables organizations to securely leverage the power of video with live and on-demand collaboration within a workgroup or across their entire global enterprise. The Suite consists of three integrated components that are compatible with major video formats including Flash and HTML5: KZO Virtual Studio, KZO Video Library and KZO Media Player. Businesses that are interested in the KZO Business Video Suite can create a free KZO Express trial account.