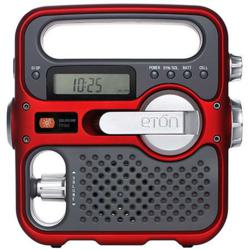 millions of Americans are using weather radios
Destin, FL (PRWEB) March 12, 2012
Following the crazy weather throughout the country so far this year, the phrase "it can't happen to me," comes to mind for millions of Americans. There have been massive snow storms in Alaska (more than usual), hail and floods in Hawaii, fires in Texas and Florida, and devastating tornadoes in the South and Midwest.
The winter weather season is almost over, the spring season is almost here and more is yet to come. The old saying "lightning never strikes the same place twice" is a myth, and this applies to destructive storms as well. Alabama was hit by a number of tornadoes in 2011 and the area just north of Birmingham, AL was hit again in 2012. Keeping this in mind, take heed of another old saying, "Be Prepared".
News services usually report storms, blizzards, fires, and floods, but one event that has a very short forecast time line is a tornado. Since this weather event has the possibility of being the most devastating weather phenomenon, early warning is imperative. A tornado can strike anywhere at any time, remember the tornadoes that hit Los Angeles or downtown Atlanta? No matter the city, state, or region, no one is immune from these severe storms. For this reason, millions of Americans are using weather radios.
A weather radio is a specialized radio which will receive storm warnings only when a major weather event is approaching the area. The National Weather service broadcasts breaking weather alerts nationally on frequencies that can be monitored on "Weather Band Radios". These radios are specially designed to receive "Weather Alerts" so that anyone can listen for the current status of a local storm. The power source of a weather radio can be AC power (fine until the power goes out), battery power (fine until the battery goes dead), or a combination of both. Others have a solar cell or a hand crank to charge the battery and the deluxe models have all the whistles and bells. Disaster Relief Supply recommends the American Red Cross models. This brand also includes an integrated flashlight, AM/FM radio, and cell phone charger as a bonus.
Although a disaster plan and storm shelter are great ideas, if there is no indication that a storm is coming, it may be too late. "Being Prepared" is not just a trendy phrase for 2012, it also saves lives.