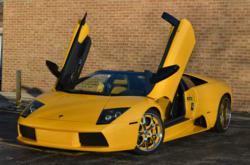 "We fulfill the needs of those who yearn to drive sleek, fast, powerful, the more-expensive-the-better automobiles at a reasonable cost; a great driving experience made much more affordable."
-- George Kiebala, CEO, Curvy Road Holdings
Palatine, IL (PRWEB) March 13, 2012
JD6, a nationally recognized business development firm, has formed a comprehensive partnership with Curvy Road in which it will introduce its high-end network of businesses and professionals to Curvy Road's fractional ownership program enabling them to drive many of the world's finest automobiles for a fraction of the cost of ownership. The agreement was announced today by Jamie Just, CEO of Midwest-based JD6, and George Kiebala, CEO of Curvy Road Holdings, headquartered in Palatine (IL).
JD6, which helps a select portfolio of companies expand their reach, growth, and value, also will encourage clients who are interested, to consider placing their own world class automobiles into Curvy Road's already substantial inventory of automobiles that includes a collection of Lamborghinis, Ferraris, Aston Martins, Bentleys, and other great exotic cars. It will provide Curvy Road fractional owners with a wider selection of great vehicles to drive.
Curvy Road also announced it just added to its inventory the $428,000 Lamborghini Murcielago Custom Roadster – currently one of the highest price models in the Lamborghini stable of fine automobiles - as well as the $300,000 Ferrari 430 F1 Spider.
This partnership will add another cutting edge business to JD6's eclectic mix of unique, industry-leading companies serving the luxury, high-end consumer and business markets. By leveraging partnerships, such as the one being announced today, JD6 will increase the value of each of the companies in its network.
Curvy Road, which pioneered the fractional ownership of automobiles concept in 2000, is the country's largest, and most established car share membership club. Similar to the popular concept of owning a fraction of a private jet or yacht, Curvy Road's PrivateAccess Plan gives fractional-shareholders driving rights with other shareholders in a fleet of world class automobiles.
The company now offers members a diverse selection of automobiles worth multiple millions of dollars from locations in Brooklyn (NY), serving members in New York, New Jersey, and Connecticut; Los Angeles, serving fractional-shareholders in Southern and Northern California as well as the Phoenix/ Scottsdale area; and Chicago, serving shareholders in Illinois, Iowa, Michigan, Wisconsin, and Indiana.
Curvy Road's agreement with JD6, whose clients include the Milwaukee Bucks of the NBA, Roomlinx, AVA Wine Distribution, J.H. Fagan Company, Marbles: The Brain Store, and other innovative companies, "also will enable us to open a location in Kansas City this Spring to serve fractional-shareholders there as well as in the surrounding states," said Kiebala. Future plans include a Southern Florida location to serve the communities around Naples and Ft. Myers, as well as Boca Raton and Ft. Lauderdale, he said.
The PrivateAccess Plan enables fractional-shareholders to enjoy access to a cutting-edge super car for up to eight weeks of driving time per year depending on which of two plans they choose. They drive their car when they have the time to enjoy it!
At the end of their program of choice, fractional automobile PrivateAccess Plan shareholders can roll into the next, new world-class car. PrivateAccess Plan members can also choose to drive multiple super-cars throughout the year by trading weeks of their primary fractional automobile to other super cars in the Curvy Road Portfolio.
All PrivateAccess Plan shareholders enjoy the prestige and pure driving pleasure of cruising in a high-end luxury or sports car without the costs and hassles of full ownership. They own part of a cutting-edge super-car and don't have to worry about servicing, storing, maintaining, or insuring it.
Fractional ownership comes with full supplemental car insurance coverage, a generous mileage allowance, a full tank of fuel, a one hour orientation to familiarize each driver with his or her chosen car, a 24-hour toll-free roadside assistance number, and other perks.
"We fulfill the needs of those who yearn to drive sleek, fast, powerful, the more-expensive-the-better automobiles at a reasonable cost; a great driving experience made much more affordable," said Kiebala.
Curvy Road is a spin-off of its highly successful sister company, Exotic Car Share, whose membership of over 1,000 automobile enthusiasts enjoy weekend and full week usage of exotic cars like a Ferrari 355 Spider, Corvette Grand Sport Convertible, and other modern exotic and classic vehicles.
For more information contact Curvy Road (888) 358-7524, or visit http://www.CurvyRoad.com, or http://www.JD6.com.
# # #