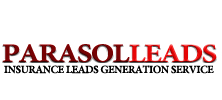 ParasolLeads has made it our mission to bring exclusive, high quality insurance leads to our clients.
Arroyo Grande, CA (PRWEB) March 13, 2012
It's every insurance agent's goal to generate high quality leads, and in today's competitive market, it's critical to stay ahead of the competition by using the power of the Internet and social media to stay in front of your target market.
ParasolLeads announces the release of their Free Report, "How To Increase Business Leads Using LinkedIn". LinkedIn is the largest professional social media network with a stated 135 million registered users throughout the world. It's the perfect tool to add to any agent's lead generating arsenal. ParasolLeads' free report will help define what LinkedIn is and provide six valuable lead generating tips when using it. It will also walk you through setting up your company profile page, displaying your products and services, tracking your analytics, and more.
Tom Carolan, Vice President of Business Development with ParasolLeads, shares, "Since its inception, ParasolLeads has made it our mission to bring exclusive, high quality insurance leads to our clients. One way to do this is to keep up with the changing market place and the way individuals connect and conduct business, which in today's world includes social media and social networking tools liked LinkedIn."
"We understand that it's important to not only provide our clients with the insurance leads and customer service they expect, but to also educate them about current trends and resources so they can truly succeed in their business… because if they don't succeed, we don't succeed."
It's this commitment to customer service and helping agents succeed that has earned ParasolLeads an A+ rating with the Better Business Bureau, in addition to long standing relationships with insurance agents throughout the United States.
ParasolLeads specializes in providing exclusive leads for life, health, auto, home, Medicare supplement and long-term care insurance. The Company takes pride in providing the highest quality of leads available with higher lead conversation rates than that of their competitors. In addition to providing high quality leads, they also offer a large portfolio of marketing services which includes an automated lead dialing service and a free online community offered to their insurance agents.
About ParasolLeads:
ParasolLeads is the ethical, honorable leader in insurance leads generation. The Company helps clients to achieve significant ROI while creating the high client satisfaction that earned them an A+ Accredited Business Rating with the Better Business Bureau. For more information about exclusive insurance leads, contact ParasolLeads at (877) 812-5111. Download a free copy of our report which details how to generate insurance leads using LinkedIn.