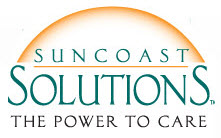 Clearwater, FL (PRWEB) March 14, 2012
Suncoast Solutions, the leader in hospice and homecare software, exhibits its innovative Nursing Home Portal during the National Hospice and Palliative Care Organization (NHPCO) annual conference in National Harbor, MD, March 29-31, 2012.
Among Suncoast's other hospice and homecare software solutions, the team is releasing new details regarding the Nursing Home Portal. In the portal users can enter and view referrals, as well as manage patient information including medicines and allergies, appointments, plan of care, DME/supplies and progress reports. Using the all-in-one system allows professionals to provide better care and reduce paperwork. Nursing home directors can easily manage staff ratios and caseloads as well as the number of referred or admitted clients, including their type—routine, inpatient, respite, or continuous care.
In addition to the NHPCO annual conference, Suncoast Solutions is exhibiting at other industry shows throughout the country. Come visit the booth during:

The Texas and New Mexico Hospice Organization Conference in Santa Fe, NM, on March 16-18
The National Association for Home Care & Hospice Conference in Washington, D.C., March 25-28
Southwest Regional Home Care Conference in Oklahoma City, OK, from April 24-25
The Association for Home Care & Hospice Care of North Carolina in Raleigh, NC, from April 30-May 1
The Visiting Nurse Associations of America in Phoenix, AR, from May 2-4
Suncoast Solutions can support multiple service lines in one database with the flexibility to add additional service lines as your organization grows. For additional information about the following software, please contact us today or visit us at an upcoming trade show.
Additional Suncoast Solutions Products:
PACE / Elder Care / Adult Day Care Software
Hospice & Home Health Business Intelligence Tools
About Suncoast Solutions
Suncoast Solutions is the leader in software solutions for hospices and homecare companies nationwide. Our home care software suite is built from our experience and best practices. Our culture-rooted solution is process focused, giving you instant access to patient history and status and the ability to manage clinical, financial and administrative activities from one consistent record accessible to all users across all services lines. For more information visit http://www.sncoast.com.