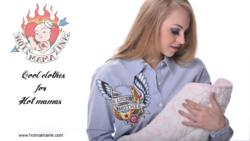 Hot Mama Ink's "one lucky mother" button shirt lets hot moms keep their rockin' style while bringing baby home from the hospital.
Encinitas, CA (PRWEB) March 14, 2012
Hot Mama Ink - http://www.hotmamaink.com
Dressing to fit your rockin' style during pregnancy is hard enough, but dressing for postpartum after giving birth can be a nightmare! Wearing maternity clothes makes you feel as if you are still pregnant and prepregnancy clothes just aren't an option. Hot Mama Ink is offering stylish moms a solution with the introduction of its "one lucky mother" button down shirt.
The button down oxford shirt has long been a staple in the postpartum wardrobe for moms everywhere but now with Hot Mama Ink's "one lucky mother" down shirt, this proven wardrobe piece gets a stylish make over with one of a kind tattoo inspired artwork. Now new moms can celebrate motherhood while maintaining their unique edge. The "one lucky mother" button down shirt joins Hot Mama Ink's hugely popular yoga/breastfeeding wraps in bringing a rockin' flair to stylish moms with an edge. As a plus, these items continue to rock through all stages of motherhood.
About Hot Mama Ink:
Hot Mama Ink was born out of a desire to fuse fashion with the celebration of mothers and motherhood. Founders Andrea Jarrell and Rachel Madewell wanted to combine an edgy rock-n-roll style that was missing in traditional "mom" and "mom to be" clothes. In launching Hot Mama Ink in 2006, the two collaborated with well known tattoo artists, Zulu and Jackie Dunn, to create one of a kind art work designed exclusively for Hot Mama Ink. The artists' artwork, whose other work adorns the bodies of such celebrities as Christina Aguilera , Janet Jackson, Mariah Carey and Rosie O'Donnell, is now inked on the soft cotton fabric of Hot Mama Ink clothing.
Hot Mama Ink offers women the ideal mix of rockin' edgy style, comfort and the celebrations of motherhood. The soft cotton tees, yoga wear, and hoodies have become a hot commodity for moms of all ages and stages. Hot Mama Ink is quickly filling the closets of celebrities such as Christina Aguilera, Angelina Jolie, Denise Richards, Jessica Alba and Heidi Klum to name a few.