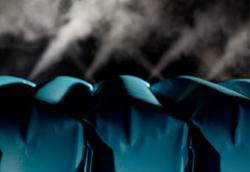 "Our customers have always referred to the SelectAir as a workhorse. So to illustrate our commitment to quality and longevity, we increased our warranty to 5 years." says Gregg Garland, President/CEO
Saint Louis, MO (PRWEB) March 27, 2012
MOXI, an American made therapeutic support surface manufacturer, including lines such as the SelectAir® and BariSelect® true low air loss systems, recently expanded the warranty on the majority of their products from 1 year to an unprecedented 5 years. The unveiling of a new website, moxiusa.com, coincides with the official release of the warranty extension. "Our customers have always referred to the SelectAir as a workhorse. To illustrate our commitment to quality and longevity, we increased our warranty to 5 years," says Gregg Garland, President/CEO.
The new website offers an informative source on our changing industry, such as the free white paper download, The 7 Myths of Powered Support Surfaces. The site showcases the full product breadth, including various new products centered around important issues such as patient safety, infection control, bariatrics, as well as an assortment of new support surfaces for all care levels. There are a few other surprises too, like a therapeutic support surface for dogs.
MOXI proudly builds their products from the ground up in St. Louis, MO with American hands. "Moxi's made in the USA philosophy gives us some advantages over imported products. We are able to operate with a Six Sigma discipline focusing on quality, such as ISO 13485. Also, we are able to meet surge demands a lot better than our competitors, that have to depend on overseas manufacturing," claims Garland.
About MOXI Enterprises.
In late 2009, Gregg Garland (former owner of AirCare Therapy), along with two new partners, John Schwartz and Scott Fiss, formed MOXI Enterprises and purchased the manufacturing rights of the SelectAir line. Garland sold the company to The ROHO® Group in 2002. MOXI and ROHO still work very close together. In fact, ROHO is one of MOXI's largest domestic distributors, handling their homecare business in the US. MOXI moved the manufacturing location from ROHO's headquarters in Belleville, IL over the river to an Italian restaurant district called "the Hill" in St. Louis, MO.