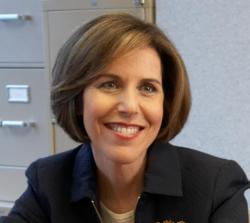 Mount Laurel, NJ (PRWEB) March 14, 2012
Internationally renowned in the field of Cognitive Behavior Therapy, Judith S. Beck, PhD, will speak at the 4th Annual Robard Corporation-funded Continuing Education Conference, to be held in Philadelphia on July 19-21, 2012. Beck, President of the Beck Institute for Cognitive Behavior Therapy in suburban Philadelphia, along with the Institute's Diet Program Coordinator, Deborah Beck Busis, LSW, will start the conference off with a lecture and demonstration role plays, addressing "Conquering Hunger, Craving, and Emotional Eating."
Robard Corporation's 4th Annual Continuing Education (CME/CEU) Conference, The Science and Business of Weight Management for the New or Experienced Practitioner, will focus on the operational and treatment skills, techniques, and strategies healthcare professionals need to successfully open a new weight loss facility or enhance a current weight management program.
According to Dr. Beck, most people struggle with losing weight and keeping it off because no one ever taught them how. It's not just a matter of willpower and a healthy eating plan. To be successful, you have to learn a set of cognitive (thinking) and behavioral skills. Other weight-loss programs assume that dieters will figure out on their own how to keep themselves from cheating.
"Almost everyone loses at least some weight initially, because they only start dieting when they are quite motivated and so it's easier to withstand cravings," says Dr. Judith Beck. "But unless they learn specific skills to withstand cravings, they inevitably revert back to old habits."
By following Dr. Beck's Cognitive Therapy techniques, dieters learn to:
— Differentiate between hunger and the desire to eat
— Strengthen their "resistance muscle" and weaken their "giving-in muscle"
— Tolerate cravings and refocus their attention
— Use cognitive and behavioral techniques when they're distressed
— Motivate themselves to tolerate cravings through "Advantages" and "Response" Cards
— Get back on track immediately when they make a mistake
For more information about Robard Corporation or the 4th Annual Continuing Education (CME/CEU) Conference, The Science and Business of Weight Management for the New or Experienced Practitioner, visit http://www.WeightConference.com, or call Jennifer Eisenhofer at 888.519.1192, ext. 3012.
About Robard Corporation:
Since 1976, Robard Corporation integrates scientific research with market vision to design and develop comprehensive weight management programs and nutritional products that enable its business partners to deliver high-quality, life-changing care to their consumers. Robard's business development team works directly with their customers to help them grow their businesses, providing business planning, marketing solutions and operational support nationwide to corporations, hospital networks, physician practices, medical weight loss clinics, and surgical facilities to increase outcomes and profits. Robard's team of food scientists, nutritionists and behaviorists stay at the forefront of innovation to develop products and programs, resulting in over 100 delicious nutritional products.
About Dr. Judith Beck:
Dr. Judith Beck is the President of the Beck Institute for Cognitive Behavior Therapy and Clinical Associate Professor of Psychology in Psychiatry at the University of Pennsylvania. She has written nearly 100 articles and chapters, and made hundreds of presentations, nationally and internationally, on a variety of topics related to cognitive therapy. In addition, she has written books on a cognitive behavioral approach to weight loss, including "The Beck Diet Solution: Train Your Brain to Think like a Thin Person" and two other diet books for consumers.
About Deborah Beck Busis:
Deborah Beck Busis, LSW, is Beck Institute's Diet Program Coordinator. She helped Dr. Beck develop the diet program and collaborated in writing the Beck Diet Solution books. Deborah Beck Busis received her Masters of Social Work from the University of Pennsylvania and is a licensed social worker. She counsels dieters in person and via phone or Skype and is working on a CBT-oriented diet book.
Robard Corporation is a subsidiary of Food Sciences Corporation.