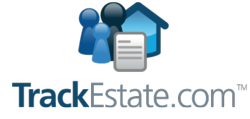 TrackEstate.com provides a solution for organizing and sharing all the key documents and information on the customers' terms.
Houston, TX (PRWEB) March 14, 2012
TrackEstate.com provides online personal document and information storage as well as sharing and access capabilities that are simply and intuitively controlled through its proprietary Agent Access System. The company provides organization, storage and permitted access for your critical documents and information.
You can watch a Quick Tour video here: Click link for Video
"After a lot of hard work we are thrilled to provide the world with a service that helps address a pain point in peoples' lives while giving peace of mind. With an abundance of baby boomers preparing their estate, or their elderly parents' estate, for the inevitable future, we are happy to provide a service that puts all the critical information in one place to ease the transition when a life event occurs", John Ellis, Founder of TrackEstate explained. "The service is innovative in that we use simple and intuitive access controls for individuals who want to share documents and information with their loved ones." he added.
When a loved one has a health issue, an unexpected loss, or wasn't prepared for an unexpected situation it is stressful and time consuming trying to figure out where all their critical documents are, including their digital assets (email address, facebook profile, online accounts, etc.). In preparation for these events TrackEstate.com provides a place to aggregate all this information and gives over 65 suggestions for important family documents and pieces of information to store. In addition to storage, TrackEstate.com provides its users with the unique ability to share these assets with trusted individuals on the users' terms, even if it is after a death or health emergency.
The National Association of Unclaimed Property Administrators states that there is nearly $33 billion of unclaimed property such as savings or checking accounts, stocks/securities, life insurance payouts, contents of safety deposit boxes, etc. in the states' treasuries. The number one reason the property is unclaimed is because the rightful owners don't know about it. TrackEstate.com helps individuals make sure their heirs receive their rightful property and also eases the stress of the process.
Taking part in Startup Weekend Houston in February 2011, TrackEstate.com (then known as Vitalrecall.com) won the judges vote and popular vote gaining credibility from the entrepreneur community.
About TrackEstate.com
TrackEstate.com is a web based service for storing and sharing important personal documents and information in preparation for estate planning including an unexpected loss, health emergency, or incapacitation. To receive 10% off when you sign up use the Promo Code: PREPARED
TrackEstate.com-Peace of Mind, Organization and Security
Follow us on Twitter: @TrackEstate
Email: Info(at)TrackEstate(dot)com