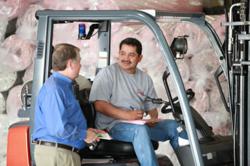 "As an HR manager you are always skeptical, always looking out for potential risk, but since we began this program we have had nothing but positive feedback and praise from our employees," said Mary McCallum, HR Director, Venture Mechnical, Inc.
Plano, Texas (PRWEB) March 14, 2012
Out-of-the-Box Thinking HR Professionals Find a Unique Service
Improving economic times after a bruising couple of years has caused several HR managers to take a new look at concepts they once dismissed, including the growing trend of chaplains in the workplace.
That's exactly what Janis K. Sanders Human Resources Manager at privately held, multi-state, Hilcorp Energy Company, found when she heard about Marketplace Chaplains, a national and international company which now serves in 44 states, and 4 foreign countries and 1 commonwealth.
While initially skeptical, Sanders has found the program to work excellently in her company as a strategic initiative to help with the vast array of employees' problems which can slow down any business.
"When the owner handed me the information packet on Marketplace Chaplains, my 'HR' red flags began waving and I was very cautious. I thought it's probably a good idea, but we can't do it here. As I reviewed the information, which answered my many questions, I found out it wasn't what I thought it was. We implemented the program and have seen amazing results ever since," said Sanders.
Mary McCallum, Director of Human Resources for Dallas-based Venture Mechanical, Inc., said originally having Marketplace Chaplains at her company was considered out-of-the-box thinking, but it has proven to be the absolute right decision for her employees and their family members.
"As an HR manager you are always skeptical, always looking out for potential risk, but since we began this program we have had nothing but positive feedback and praise from our employees, thanking us for having something like this," said McCallum. A Roper Poll recently showed that 87% of employees would work harder if their company was willing to help them with their personal problems.
"I think this is one of the out-of-the-box trends you will begin to see more and more of in our industry. Like many HR managers, a lot of people come to my office with problems and it's enjoyable to be able to tell them we have a resource for you," added McCallum. After serving companies for 28 years, Marketplace has observed that only 20% of the staff would ever go to the HR department or company leadership with their problems.
Dr. John Sullivan, an HR hiring expert and regular contributor to the prestigious ERE.net employee retention website, recently predicted two of the growing trends for HR professionals in 2012 would be intense hiring competition in selected areas, and that retention areas would increase dramatically.
Adding a Marketplace Chaplain Care Team can and has been the differentiating factor in attracting top talent as evidenced in a David Weekley Homes' Employee Satisfaction Survey. (David Weekley Homes [DWH], a long-time client of Marketplace Chaplains).
A DWH employee said, "Just the existence of a chaplain at DWH helps to set the tone for the level of integrity and morals expected from its employees. It was one of those items that really attracted me to Weekley because it showed me that Weekley has a vested interest in my overall well-being, not just in what I can do for them!"
"Almost every survey shows that despite high engagement scores, more than a majority of employees are willing to quit their current job as soon as a better opportunity comes along,"
Sullivan also noted in his column.
The Department of Labor reports that 45% of all employees would voluntarily leave their current job if they felt more valued elsewhere. In addition, the report also shows that out-of-the-box thinking by HR managers and companies is key to retaining good employees.
"Rather than the traditional, 'one size fits all,' retention strategy, a targeted personalized approach will be required if you expect to have a reasonable chance to retain your top talent," Sullivan wrote in the January 2012 ERE.net issue.
Sanders, who recently helped expand the Marketplace Chaplains service to new Hilcorp properties in Alaska, said the proof of the employee assistance program success was in the long tenure. "Here we are 10 years later, and I think it's exciting to offer a benefit like this to our employees."
Quick service company Austaco, Ltd. (a franchise of Taco Bell Corporation), was facing an employee turnover rate of nearly 300% before employing Marketplace Chaplains to serve their food locations in South and Central Texas. Since then, the turnover rate has dramatically been cut by 50% and Austaco, Ltd. has received awards as one of five elite franchises by Taco Bell Corporation.
Marketplace Chaplains, voluntary, confidential, service currently employs 2,629 male and female chaplains, serving in nearly 500 companies and 2,600 client company locations in the U.S., Canada, Mexico, Puerto Rico and the United Kingdom.
"As an HR professional, I'm glad to say we have someone here for you. I've been in classes and seminars and heard people say it would never work, but it's worked out great here," said Venture's McCallum.
For more information on this fast-growing corporate strategic initiative, featured on NBC Nightly News, CNN, Washington Post and the New York Times, visit http://www.mchapusa.com.
For more information or to arrange an interview with a client company or local chaplain, contact Art Stricklin at artstricklin@mchapusa.com or 1-800-775-7657.
Marketplace Chaplains
2001 W Plano Pkwy Suite 3200
Plano, TX 75075
1-800-775-7657