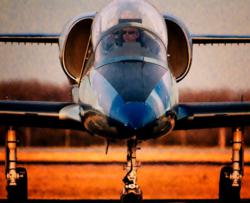 The combination of three L-39 Albatrosses and the MIG-23 has created a huge buzz in the air show circuit. We are excited to finally get off the ground this April." Gareth Long - RSJT Lead Pilot
Lancaster, Texas (PRWEB) March 14, 2012
The Red Steel Jet Team just released its inaugural air show tour schedule. The tour will begin in the Red Steel Jet Teams' home state of Texas at Dyess AFB on April 27th. The tour will visit seven states in all. Texas, Missouri, Indiana, Florida, Nebraska, Kansas, Massachusetts and have one stop in Alberta, Canada at the Lethbridge international Air Show. "The combination of three L-39 Albatrosses and the MIG-23 has created a huge buzz in the air show circuit. We are excited to finally get off the ground this April. We have worked really hard this past year to get all the pieces in place and we can't wait for the fans to see what the Red Steel Jet Team is all about," Gareth "Unicorn" Long, Lead Pilot.
RED STEEL JET TEAM SCHEDULE:
April 27-29 Dyess AFB, Abilene, TX
May 19-20 Whiteman AFB, MO
June 7-10 Evansville, IN
July 20-22* Lethbridge International Air Show, Alberta, CA
August 3-5 Westover ARB, Chickopee, MA
August 25-26 Offutt AFB, Omaha, NE
September 1-2* Fort Wayne, IN
September 8-9 Liberal, KS
November 2-3* Pensacola, FL
November 10-11 Stuart, FL
*shows are subject to change
ABOUT THE RED STEEL JET TEAM: The Red Steel Jet Team is a combination of the fastest supersonic civilian-owned jet aircraft, the Mig-23, and the sleek aerodynamic L-39. Experienced military and civilian pilots, representing some of the best pilot talent in the US. The Red Steel Jet Team has as its primary mission to professionally execute complex aerial events safely! With a combined experience of over 35,000 hours, Red Steel Jet Team features the best civilian and military pilots in the air today. With such varied background as the former top secret 4477th Test Squadron, financial services, the Cuban Air Force, technology, aviation law, US Naval helicopter operations, and even real estate, this team appeals to people of all walks of life.
ABOUT THE AMIBUG GROUP: The Amibug Group is a private equity group that owns, operates and or partners with several companies. The Amibug Group has created more than 250 jobs since 2008. "The Amibug Group is excited to be a part of this exciting experience. The combination of the three L-39's and the only Flying Mig-23 in America will leave people wanting more!" - Scott Tracy, Amibug Group Vice President.
Contacts:
Press Inquiries: Andy Gil Andygil(at)g6mediagroup(dot)com (702) 884-9834
RSJT Marketing: Lacy Long Lacy(at)redsteeljetteam(dot)com (702) 677-1596