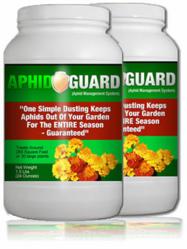 A new non-toxic approach to aphid control eliminates the toxic pesticides of the past and brings non-toxic, EPA approved and environmentally friendly AphidGuard to the public.
(PRWEB) March 21, 2012
A new report from Planet Amazing looks at new non-toxic solutions for killing aphids on plants, in gardens and even indoors. "Aphid treatment just got easier," says Justin Douglas of Planet Amazing. "A new non-toxic approach to aphid control eliminates the toxic pesticides of the past and brings non-toxic, EPA approved and environmentally friendly AphidGuard to the public. This product is fantastic for killing aphids and it is also non-toxic to people, children, pets, plants, so you can feel good about using it in your yard, garden or even indoors," he says. "For those people wondering how to get rid of aphids and any aphid infestation, this is a new, better way to treat the aphid problem. AphidGuard uses a solution that is based on non-toxic microcrystals from Planet Amazing. The microcrystals are can completely treat insects that have developed resistance to other traditional chemical pesticides."
Mr. Douglas explains that the aphid cure has already been in use for decades by professional organic farms to keep their crops free from aphids. He says: "For gardeners wondering how to kill aphids, the AphidGuard aphid cure will kill aphids naturally, providing aphid control without any poisons by using an environmentally friendly patented substance from Planet Amazing. Gardeners looking for organic aphid control as to how to get rid of aphids will appreciate the non-toxic Planet Amazing product."
"Some benefits of AphidGuard are that AphidGuard is easy to use, just dust your plants once every 3 months and your fully protected. AphidGuard is poison free so it won't harm your pets or small garden animals. It only kills bugs. AphidGuard is inexpensive so one container will last you for the entire year and beyond."
Aphid Guard is approved by the EPA as a safe pesticide and it is certified as non-toxic.
"AphidGuard kills aphids by simply shredding their intestines," according to the scientists that have helped to develop the non-toxic product. "The rough micro-crystal spears in AphidGuard attach to the legs and bodies of aphids as they crawl across it. When they groom it off, the crystals are like ground glass in the bugs intestines, shredding them from the inside out, resulting in internal bleeding, dehydration and ultimately death. Because of the tiny size of these crystals AphidGuard is harmless to your pets and family as both intestinal tracks are hundreds the size of that of an insect. Simply wet your plants and dust them lightly with AphidGuard. It's fine white powder lightly covers the leaves for just a few days, that's all it takes to be aphids free."
As one customer said, "after 6 years of gardening this is the first season I haven't seen a single aphid whole in any of my plants."
For more information or to purchase AphidGuard, visit the AphidGuard website or visit the Amazon.com AphidGuard page.
About Planet Amazing
Planet Amazing, the makers of AphidGuard™ is an EPA registered manufacturer and packager of family-friendly and environmentally safe pesticides and other products. Planet Amazing is dedicated to always creating products that are safe for people, children, pets and plants, including our fantastic Aphid Guard aphids removal product. The community of researchers and staff at Planet Amazing are dedicated to bringing high quality non-toxic household solutions to the public, while keeping a positive effect on the environment and eliminating any environmental footprint.