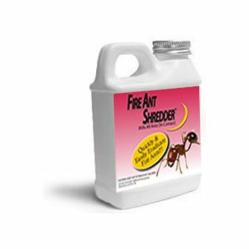 Millions of fire ants with aggressive tendencies are overwhelming homes in the Southern USA, says Planet Amazing and CNN.com.
(PRWEB) March 24, 2012
CNN calls it one of the worst insect epidemics in Texas history, and several agencies in Texas exist solely to fight the spread of fire ants in the Lone Star state. Now Planet Amazing weighs in on the research with a report that shows a variety of environmental cures that can effectively protect lawns, houses and fight the spread of the fire ants. The non-toxic Fire Ant Shredder can kill fire ants quickly and without poisons. For those asking how to kill fire ants, Fire Ant Shredder is a natural fire ant killer.
"In the Southern U.S. there is currently a fire ant epidemic that is causing damage to industry, farms, and homes. The fire ants are imported from South America and are quite resourceful - even to the point of creative activities like 10,000 of them joining together in the rain to create a life raft that floats down the water flow to a new location," says Justin Douglas, expert researcher for Planet Amazing. "There are a variety of environmental ways to deal with these fire ants. Texas State Government is funding the release of phorid flies that are the fire ants natural enemy, and the phorid flies hunt the fire ants and keep them in control. But the phorid flies are not a solution for your specific home if you find that fire ants have invaded your walls or gardens."
Mr. Douglas says that Planet Amazing microcrystals are highly effective for killing fire ants in a focused location such as a yard or a home where you control the environment. "The way it works is that you can take the powder, since the Fire Ant Shredder is a powder that you spread in a specific area, and you can put down a thin layer of the powder which is safe for humans, pets and plants. The powder lasts months and is non-toxic, completely natural in its approach to getting rid of the fire ants. This is important for a couple of reasons, for one you probably don't want poisons in your yard or home to kill the fire ants. Sure there are poisons that can do it but we don't want poisons around our plants, pets and kids. So you don't have to use poisons, because our Planet Amazing products are completely non-toxic and safe for plants, pets and kids. The microcrystals will tear up the bodies of the fire ants and the powder is too small to affect anything else, it is completely safe for everything other than the insects and it is approved as safe by the EPA (Environmental Protection Agency) in the United States."
For more information about Fire Ant Shredder visit the Amazon.com web store.
About Planet Amazing
Planet Amazing is an EPA registered manufacturer and packager of family friendly and environmentally safe pesticides and other products. Planet Amazing sets high standards for their operating companies in the area of environmental responsibility — striving for performance that does not merely comply with regulations but reduces the environmental impact. They commit to take care of our planet and preserve its beauty, resources and strength for future generations. Planet Amazing embraces research and science - bringing innovative ideas, products and services to advance the lives and well-being of people. Employees of the Planet Amazing family of companies work with its partners in order to touch the lives of people every day, throughout the world.