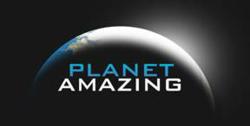 For several decades, insects have been developing a resistance to the chemical pesticides used against them.
(PRWEB) March 25, 2012
A new report from Planet Amazing outlines the phenomenon of "resistance" in insects and says that organic pesticides and non-toxic pesticides do not have this problem, according to Justin Douglas of Planet Amazing. The "resistance" phenomenon is an immunity that insects have been developing for several decades to the chemical pesticides used against them in most developed countries of the world, Mr. Douglas says. "The end result," he says, "is that the insects can withstand a lot of the treatments that are out there including exterminator chemicals. But there is a better way, because you don't have to use chemicals at all."
"Organic pesticides are just better," Mr. Dougas says. "And the Planet Amazing company has launched a new research project to compile the masses of data from the worldwide use of their non-toxic pest control products that use the patented microcrystals. This includes flea control, aphid control, bedbug control, white fly control, roach control and ant control," he says.
According to Mr. Douglas, the complete catalog of products has had a huge response from the public because of its environmentally friendly status and its high rating with the EPA as family-safe and pet-safe products. "We are committed to providing completely non-toxic and environmentally friendly products for use at home and in commercial locations. Our products have already been used and tested at locations ranging from the U.S. Navy to organic farms. We are proud to make these non-toxic pest control products available to the general public."
Planet Amazing products are approved by the approved by the EPA as safe and certified as non-toxic.
For more information, please visit the Planet Amazing storefront at Amazon.com.
About Planet Amazing
Planet Amazing is an EPA registered manufacturer and packager of family-friendly and environmentally safe pesticides and other products. Planet Amazing sets high standards for their operating companies in the area of environmental responsibility — striving for performance that does not merely comply with regulations but reduces the environmental impact. They commit to take care of our planet and preserve its beauty, resources and strength for future generations. Planet Amazing embraces research and science - bringing innovative ideas, products and services to advance the lives and well-being of people. Employees of the Planet Amazing Family of Companies work with its partners in order to touch the lives of people every day, throughout the world.