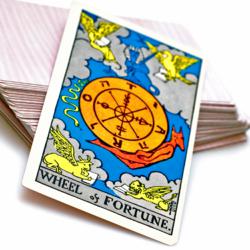 If you are questioning any aspect of your life or looking for answers, please come and sit with me and together we will find cosmic guidance
Greenfield, WI (PRWEB) March 13, 2012
In today's world, many people are struggling with profound questions about their lives, relationships, finances and careers. Catrina Marino at Life Therapist in Greenfield, Wisconsin has been helping people find answers to these wuestions and more all of her life, and she wishes to extend her services to new clients by offering them a discount during March and April, 2012.
Normally $65, Life Therapist is offering a special package that includes both a tarot card reading and a psychic reading for just $45—30% off the customary rate. Believers and skeptics alike will find the reputable Milwaukee psychic helpful in discovering peace, purpose and direction in their lives.
"If you are questioning any aspect of your life or looking for answers, please come and sit with me and together we will find cosmic guidance," said Catrina. "Tarot and psychic readings uncover the true questions you are facing and provide a renewed vision so you can find the answers you seek."
Catrina has a well-earned reputation for being the most talented and gifted psychic in Southeastern Wisconsin. Psychic revelations learned through tarot card, photograph and palm readings help clients better understand the questions they face and make good decisions about the future.
According to the Universal Psychic Guild, tarot cards originated over 500 years ago in northern Italy. Originally used in game, French occultist Jean-Baptiste Alliette (1738-1791) later assigned divinatory meanings to each card for upright and reverse orientations, as well as spreads.
Traditionally, there are 78 cards in a tarot card deck, separated into two parts: the major arcana and minor arcana. The 22 major arcana cards symbolize the universal patterns of human nature. The 56 minor arcana cards are further divided into 4 suits (pentacles, cups, swords and wands), which represent the energy, emotions and activities of people's daily lives.
Catrina uses the unique astrological meaning and numeric significance of the tarot to gain insight, clarity, and achieve greater control over issues involving relationships, life changes, family, career, health, spirituality and dreams.
For more information about this offer or any of Life Therapist's psychic services, call (414) 543-9999. Life Therapist is located at 7507 West Coldspring in Greenfield, Wisconsin.
About Life Therapist
Life Therapist Catrina Marino is a gifted psychic who provides guidance and love advice through psychic readings, tarot card readings, palm readings, photograph readings and crystal ball readings.
Life Therapist serves the Metro Milwaukee area, including the communities of Greenfield and Hales Corners.