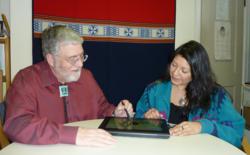 The J3500 Tablet PC is the ideal solution and fully supports my work with Native communities.
Austin, TX (PRWEB) March 14, 2012
Dr. R. Dale Walker, from the Cherokee Tribe of Oklahoma, is a professor of Psychiatry, Public Health and Preventive Medicine as well as the director of the Center for American Indian Education and Research at Oregon Health and Science University and director of the One Sky Center. With a mission of improving the prevention and treatment of mental health and substance abuse problems and services among Native people, Dr. Walker averages approximately 50 site visits per year, during which he uses the Motion® J3500 Tablet PC to gather enormous amounts of information, such as the tribe's history, activities, current state, problems and problem-solving methods.
Tweet this: #casestudy @MotionComputing #tablet helps Dr gather vital patient data in the field http://bit.ly/i5SaXR
"When out in the field, you want to eliminate as many things that could go wrong as possible, and the J3500 Tablet PC does just that with its battery life, ruggedness, power and performance," said Dr. Walker. "Consumer tablets just can't compute like the Windows®-based Motion Tablet PCs, and who wants to carry around multiple systems when you have everything you need in one device?"
According to Dr. Walker, using the J3500 Tablet PC is just like taking notes on paper, but much more efficient. An hour's worth of notes can be converted to text and emailed out in just minutes. "The ability to capture information, report back on my findings and share knowledge in near real time is an invaluable capability," said Dr. Walker.
The tablet serves as a desktop replacement or portable library, helping Dr. Walker look up, verify or access educational tools on the fly, which proves extremely valuable considering the often remote locations of the communities. The access to information also reduces the amount of time spent on each subject, meaning more time to cover more topics. "It's giving them the gift of information," said Dr. Walker.
While traveling, Dr. Walker also uses the J3500 Tablet PC to create PowerPoint presentations, which he delivers when he testifies in the senate and presents at major universities on the welfare and health of Indians in the U.S. "It's all about consuming and sharing information, and the Motion Tablet PC creates a whole other level of communication," said Dr. Walker. "Real-time advocacy for Native healthcare needs and funding for these issues can be coordinated from the field."
Looking forward, Dr. Walker hopes to use the J3500 Tablet PC to help develop community surveys to expedite the flow of information as well as understanding of trends in Native communities.
"Access to care is the number one problem facing Indian communities today, and the more information you gather for risk assessment and to solve problems – the better off everyone is," said Dr. Walker. "The J3500 Tablet PC is the ideal solution and fully supports my work with Native communities."
Web Resources
J3500 Tablet PC: http://www.motioncomputing.com/products/tablet_pc_J35.asp
Healthcare: http://www.motioncomputing.com/solutions/healthcare.asp
LinkedIn: http://www.linkedin.com/company/12982
Twitter: http://twitter.com/MotionComputing
Facebook: http://facebook.com/MotionComputing
About the One Sky Center
Created in 2003, the One Sky Center is the first American Indian/Alaska Native national resource center for substance abuse and mental health services and is located at Oregon Health & Science University in Portland, Oregon. With visits to reservations and urban programs throughout North America, the One Sky Center is the only national program that works directly with Indian communities and tribes to provide technical assistance, consultation and training activities. The One Sky Center also works with a broader audience of federal, state, local and tribal governments, in addition to the private sector, regarding Indian affairs, tribal trust education and healthcare.
About Motion Computing
Motion Computing is a leading global provider of tablet PCs and supporting mobility solutions, combining world-class products with services customized for the unique needs of mobile professionals across vertical markets, such as field service, retail and healthcare. The company's enhanced line of rugged tablet PCs as well as mobile point of service solutions and accessories are designed to increase mobile productivity while providing portability, security, power and versatility. For more information visit http://www.motioncomputing.com.
# # #
Motion Computing and Motion are registered trademarks of Motion Computing, Inc., in the United States and other countries. All other trademarks and copyrights are the property of their respective owners.