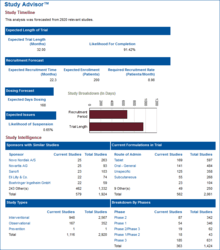 Norwood, MA (PRWEB) March 13, 2012
Infinata's BioPharm Clinical, already the industry's only comprehensive solution for study feasibility and site/investigator selection, has added its Study Advisor module to enable global clinical operations to plan trials more effectively, reduce cost and delays, mitigate risk and optimize the trial's chance for success. Read more about Study Advisor.
Using Study Advisor, subscribers enter pertinent protocol information such as indication, inclusion/exclusion criteria, geographic requirements, patient demographics and dozens of other factors. Study Advisor accesses data from the industry's largest pool of 145,000 tracked global trials in order to help clients:

Forecast enrollment time
Predict number of enrolled patients
Suggest experienced sites and investigators
Anticipate likely adverse events (AEs) and more
For example, users can quickly run a custom report on diabetes (type 2) trials with specific criteria such as phase, patient gender/age, size of trial, route of administration and more. In this scenario, Study Advisor analyzes 2,920 relevant trials to determine:
Expected trial length: 32 months
Expected recruitment time: 22.3 months
Expected enrollment (patients): 200
Required recruitment rate (patients/month): 8.98
Likelihood of completion: 91.42%
Likelihood of suspension: 0.65%
Expected days dosing: 168
Most likely obstacles: drug shortage, funding issues and safety issues
Sponsors with active similar studies: Novo Nordisk A/S (25 current studies), Novartis AG (25), Sanofi (23), Eli Lilly & Co (22) and Boehringer Ingelheim GmbH (22)
Additional analytics profiled include formulations used in trials, study types and breakdown by phase.
"We are excited to provide Study Advisor as an exciting new value-added feature requested by our clients," said Ruth McHenry, Managing Director of Infinata. "Combined with dynamic trial analytics, exclusive site and investigator profiles, and proprietary investigative journalism, Study Advisor further solidifies BioPharm Clinical as the go-to resource for all ClinOps needs at CROs and biopharmaceutical companies."
To use Study Advisor, request a free trial at biopharmclinical.com.
About BioPharm Clinical
BioPharm Clinical is an exclusive support solution for clinical operations professions, providing real-time trial analytics and the most comprehensive database of sites and investigators. Clients benefit from proprietary calculations tailored to their particular trial requirements, detailed milestone timelines and more as they make critical study feasibility assessments and evaluate investigators for their global programs. Learn more at biopharmclinical.com.
About Infinata, Inc.
Featuring a comprehensive BioPharm Solutions Suite, unique Wealth Prospecting tools and innovative Custom Data Services, Infinata provides personalized technology solutions to turn information into insight. Infinata is a part of Mergermarket, a Financial Times Group company and a division of Pearson plc. Find more information at infinata.com.