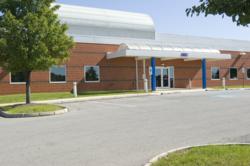 DBSi is continually at the forefront of industry best practices to provide the most secure, robust, and reliable infrastructure in the market."
Bethlehem, PA (PRWEB) March 13, 2012
DBSi, a premier provider of data center, cloud computing, disaster recovery, and managed services in the Northeast, announced it has achieved Payment Card Industry Data Security Standard (PCI DSS) SAQ Type D certification for TekPark, the company's newest enterprise class data center in Breiningsville, Pennsylvania.
The PCI DSS is a multifaceted IT security standard that requires applicants to demonstrate competencies across a range of disciplines including network architecture, security management, and access control. As a result of achieving PCI DSS compliancy, clients of DBSi who store, process, or transmit credit cardholder data are assured that their data center facility complies with stringent security standards outlined by payment card issuers.
This latest accreditation reinforces DBSi's commitment to meet the growing demand from customers who not only store and transmit cardholder data, but who also need to demonstrate that their data center provider has the required level of physical and virtual environment compliances. The company's technology partners agree; Dave Chronister of Parameter Security observed, "the level of security training, certifications, professionalism, and attention to detail found at DBSi during our PCI DSS audits rival those of our Fortune 500 clients and show a level of awareness rarely seen across all levels of an organization."
This rigorous standard to achieve and maintain, adds to DBSi's existing accreditations, including its Type II SOC 2 and SOC 3 certification which follows The American Institute of Certified Public Accountants (AICPA) Trust Services Principles and controls over security and availability. "DBSi is continually at the forefront of industry best practices to provide the most secure, robust, and reliable infrastructure in the market," explains DBSi CTO, Paul Mazzucco. "Being SOC 2 and PCI Compliant means our clients can meet industry regulations such as the Health Insurance Portability and Accountability Act (HIPAA) and the Sarbanes-Oxley Act of 2002 (SOX), as well as those set by financial institutions and other national and international regulatory bodies. By carving out an entire subsection of our private Network and completing extensive equipment upgrades, DBSi provides the secure physical environment and network segregation - which exponentially reduces the resource and cost burdens for our clients in achieving their own individual PCI compliant environment."
The company chose TekPark to launch this new initiative and will roll out all to of its data center facilities to best meet client needs in the future.
About DBSi
In business for over 30 years, DBSi is an innovative data center services company providing flexible, cost-effective, mission-critical technology solutions. Headquartered in Bethlehem, DBSi operates three secure, high density, highly available data centers in Bethlehem, Valley Forge, and Breinigsville, PA.
The company provides comprehensive data center services including Managed Hosting (Backups, WAN, Administration, and Monitoring), Cloud computing, and traditional Colocation to hundreds of clients across numerous verticals including the healthcare and financial markets. DBSi also offers Disaster Recovery solutions ranging from tradition tape based recovery to advanced services such as virtualization, real time data replication, remote backup, email failover, and redundant data center configurations - all complimented by the region's largest Workspace Recovery offering.
For additional information about DBSi, please visit the company website at http://www.dbsintl.com.