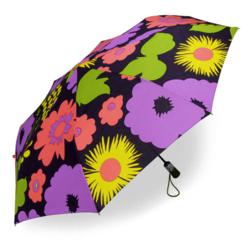 The must-have accessory for unpredictable weather, an umbrella can add a pop to any outfit, while protecting from sudden showers.
Minneapolis, MN (PRWEB) March 13, 2012
The weather outside may be dark and stormy, but the Museum of Modern Art's Sky Umbrella keeps users dry and protected under the fluffy clouds and blue skies of its canopy. A secret and unassuming treat to those in the know, this umbrella appears an ordinary black parasol to onlookers—while underneath, a bright rainless sky guards from downpour. Much like the lining of a jacket or blazer, hidden details make an accessory unique; even if you're the only one who gets to enjoy them.
Of course, spring isn't always about dark and frightening thunderstorms. With new flowers blooming all around, a matching, cheery floral umbrella adds a feminine touch to any outfit—a welcome change from the layers of chunky knits and bulky scarves of winter.Marimekko umbrellas come in a wide variety of patterns and colors, and their bold prints have been in fashion since the company began in 1951.
Fulton's Bubble Umbrellas feature bold bands of color-blocking along the rim, allowing the umbrella to act as downpour deflector and fashion accessory. With its clear canopy, snazzy outfits will never have to take backseat to the weather again. A carefully crafted ensemble easily shows through the clear vinyl, letting onlookers know just how fashion-forward you really are.
For a unique interpretation on the bubble umbrella, there's GOGGLES . With multiple color options, GOGGLES Umbrellas offer a playful take on the notion of the clear bubble umbrella. A small goggle shaped vinyl opening is provided at eye level for the skilled umbrella user to navigate about town without bumping into their surroundings. GOGGLES Umbrellas make running errands in the rain a little bit more fun.
Sometimes, the classics can't be beat. The Fulton Huntsman Umbrella's no frills attitude towards form and function can be dressed up or down. In a classic black silhouette, the Huntsman can be paired with jeans and a slouchy tee while running around town or dressed up for a more formal affair.
About Ella Umbrella:
An online umbrella superstore, Ella Umbrella carries over 100 different styles of rain umbrellas from the top companies such as London Fog, Totes, Samsonite, Marimekko and Fulton. In addition to carrying the best brands, EllaUmbrella has amassed a variety of styles including bubble, fashion, windproof, collapsible, stick and miniature umbrellas. Offering complete wet weather protection, the expansive collection of high-performance umbrellas will deliver you safe and dry to any destination. Shop online at EllaUmbrella.com.