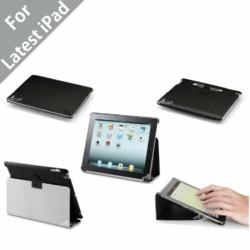 New Design with Magnetic Closure to Support Sleep & Awake Function, Elastic Bend to Hold Stylus Pen
Marlboro, NJ (PRWEB) March 14, 2012
Introducing the latest Acase(TM) New iPad Case (iPad 3 Case) - Concept Hard Shell Case Folio from CTCStore.com:
Product Description -
Apple New iPad Case (iPad 3 Case) Concept hard shell case folio by Acase(TM)
As a form-fitted case folio for Apple New iPad (iPad 3), Acase(TM) combines hard PC shell and elegant cross grain PU leather together, creating a whole new design which match the i- product style - simplicity and elegant.
The ultra slim case will add only little bulk to Apple New iPad (iPad 3), and keep it slim as usual. To protect Apple New iPad (iPad 3) and itself, the cross grain exterior provides special texture to prevent scratch and dust.
The display is covered gently by tender micro fiber lining. And the detailed cutout ensures all the functionalities accessible while using the gadget. An elastic cord on the front cover allows user to put a pen or a stylus to the case.
By folding the case into two standing positions, it is easy to watch videos or type emails on Apple New iPad (iPad 3). Every detail lined up for better protection, convenience, and sexiness.
Special Features:
Material: cross grain PU leather / micro fiber leather/ PC / elastic bend.
Compatibility: Apple New iPad / iPad 3 / iPad 2
Available for access to all functionalities
Available for two standing positions, and a stylus to attach to the case
Build in magnetic closure to support "Sleep" & "Awake" functions of Apple New iPad / iPad 3 / iPad 2
Stylus is not included
All controls, buttons, and pots are kept open