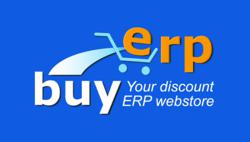 By adding Microsoft Dynamics SL to our product list, we are truly able to offer our customers a full-line of ERP products to match their companies' needs to perfection
Las Vegas, NV (PRWEB) March 13, 2012
BuyERP.com a Gold Certified Microsoft Dynamics partner added the last piece of the Microsoft Dynamics puzzle to their Ecommerce store this month. They are proud to announce they are now an official provider of Microsoft Dynamics SL (Solomon). BuyERP already are a provider of Microsoft Dynamics GP (formerly Great Plains), Microsoft Dynamics NAV, and Microsoft Dynamics CRM. They are excited to expand its footprint and business portfolio by adding Microsoft Dynamics SL to its software repertoire. BuyERP feels they now have a full suite of products to meet any businesses need when searching for ERP software. "We are very excited to be the only Ecommerce store on the web able to provide our customers with the full suite of Microsoft Dynamics products" says Marketing Manager Brett Hensley "By adding Microsoft Dynamics SL to our product list, we are truly able to offer our customers a full-line of ERP products to match their companies' needs to perfection".
Microsoft Dynamics SL is perfect for project-driven organizations such as government contractors, professional services firms, and construction companies, but also is well-suited for an array of other organizations. Through Microsoft Dynamics SL these companies are able to manage projects effectively, improve productivity and reduce training costs, integrate project management and accounting, gain real-time access to key reporting data, and tailor the solution to meet your specific industry's needs. Moving to a new ERP system can be overwhelming, but Microsoft Dynamics SL simplifies the process with a solution that is designed to get you up and running quickly. All of this and Microsoft Dynamics SL doesn't require expensive development or an increase in manpower.
If you are interested in Microsoft Dynamics SL, GP, NAV, or CRM call BuyERP at 1-877-377-3955 for more information or to get a quote. You can also visit their website http://www.buyerp.com to access guaranteed low prices. BuyERP.com also provides consulting services for companies that already carry the product or need help with implementation, ongoing support, and upgrades.
About BuyERP.com
BuyERP is the first e-Commerce site to allow customers to purchase world class on-premise Microsoft Dynamics ERP Accounting software in minutes. You can buy your Microsoft Dynamics Accounting software in just a few clicks, at the most competitive price on the Internet. We offer Microsoft Dynamics GP, Microsoft Dynamics NAV, Microsoft Dynamics SL, Microsoft Dynamics CRM and various Independent Software Vendor (ISV) products. You can find all of your Operating System and Server products right there as well. Whether you need to purchase a new ERP system for your growing company or an additional module for improved functionality, BuyERP.com has got you covered.