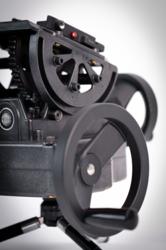 "Awesome piece of gear. I've literally been playing with it in my living room for two days straight. All in all just awesome. Very nicely done."
Benjamin Zimbric
Director of Photography
FuzzyMonsterMedia.
Lusby, Maryland (PRWEB) March 13, 2012
The introduction of video capabilities in today's DSLR cameras brought a quality and clarity to today's images that previous generations of cinematographers could only obtain through expensive cameras or cumbersome film style adapters. Adding yet another tool to the filmmakers' arsenal in support of the outstanding image these cameras are capable of producing, the CPM GearHead brings a new level of motion to the game (playing field). Two years in the making, the CPM GearHead was designed as a stand alone system or coupled to CPM's soon to be introduced dual purpose doorway dolly. The GearHead is a single speed, 60:1 ratio designed for 75mm and 100mm half ball mounts for standard tripod installation. It has a tilt angle of +/- 48 degrees with over 25 roller, thrust and flange bearings throughout the system, with a steel gear set and stainless main shafts. The Unit comes complete with fold in handles on 4" or 6" crank handles. Optional inertia rings are available. Suggested operating limit is 15 pounds. The CPM GearHead unit is made in the USA.
The CPM GearHead unit joins the family of Camera Rigs and Accessories that were developed as a system of carbon fiber rods combined with carbon filled polycarbonate components to fill the need for strong yet lightweight configurations to house the cameras and multiple associated accessories using a cage, rod and bracket system. This system protects the camera while providing customizable accessory mounting points to increase the overall strength of the system without adding unnecessary weight.
Concepts and engineering to prototypes, tooling and final production, all aspects of manufacturing are performed under a single roof from CPM's operations center in Lusby, Maryland.