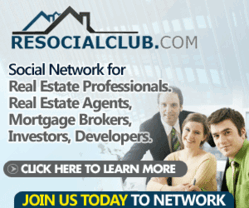 Connect with Real Estate professionals only!
Los Angeles CA (PRWEB) March 12, 2012
Everyone seems to have a Facebook page today. The social media has emerged as a hot platform to build a network and stay in touch with your friends. Like others, real estate professionals too need to have a social media profile. There are several social networking websites that the real estate agents can use to increase their web presence. This could be the right platform to attract more clients.
Keeping the interests of real estate professionals in concern, ReSocialClub.com has launched this social media network which is exclusive to these professionals only. Now, real estate professionals can take the optimum level of benefits from their web presence facilitated by ReSocialClub.com. The site brings a variety of social networking opportunities to the realty professionals. The benefits of using the site that these professionals can achieve can be enumerated as:

Building Networks with other professionals
Marketing to new clients
Protecting your brand
Testing out marketing ideas
Measuring the impact of your marketing
Social media and social networking are not just the terms that the real estate agents read and hear about. The majority of them even don't completely know how social media can be helpful in making their business more prosperous and sustainable. ReSocialClub.com now brings forth the reality that it's not just a buzzword but it can serve as a veritable platform to draw attention of the property buyers, sellers, investors and others. The site offers the real estate professionals to keeping up with the emerging and at the same time expand the business prospects.
According to the CEO of ReSocialClub.com, "For many real estate professionals, maintaining a social media profile on various sites can seem a very daunting task. But today, the social media is one important tool that business owners and professionals need to rope into their marketing strategy. Keeping these facts in mind, we have come up with this exclusive social media platform for the realtors – the ReSocialClub.com."
Thorsen Mlucus, an independent property management consultant from Mexico, acclaims with joy and is very much optimistic about the launch of this platform, exclusively designed for real estate professionals. In an e-mail letter to the site, he writes, "I think, it's better than Facebook and other social media sites. I have thousands of friends on Facebook but here on ReSocialClub.com, only a dozen of them will mean regular business. That's the benefit of a platform that caters to your segment only."
Interestingly, membership of this website is limited to the real estate professionals only. The website allows you to choose a Profile Address of your desire and you can forward this profile address to anyone whom you want to visit your profile. An easily memorable and easily recognizable Profile Address will help you to popularize yourself fast on the web. Your membership will allow you to create your profile on the site and start networking with thousands of professionals from your niche only. It will give you to unlock your potential and multiply your business very fast, powered by social media networking.
About Profile ReSocialClub.com
ReSocialClub.com is a social media platform, built exclusively for the real estate professionals. Only real estate professionals are allowed to register on the site and host their profiles. A registered member will have host of networking opportunities on the site. Members can view each other profiles and update and they can interact with each other via online chat. They can share valuable information through blog and forum postings. A member can seek input on complex real estate issues from a number of expert real estate professionals by posting a thread. Moreover, a member can also post images and videos related to their property and generate business leads. The site has been developed to serve the all-round purpose of a real estate professional.
For more details, log on to http://www.resocialclub.com/.