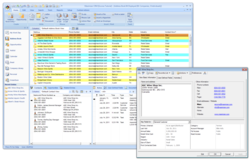 We've always been there to help the small business owner streamline their sales process to improve opportunity tracking, communication and ultimately, closing deals
Vancouver, British Columbia (PRWEB) March 13, 2012
Entrepreneurs, small business owners and sales professionals are always looking for the easy-to-use solution that's going to make it easier to close sales. They look to Customer Relationship Management software to get the job done. With Maximizer Software CRM 12 Entrepreneur Edition, they've got even more contact management capabilities to manage a sales territory, keep track of individual customers, boost productivity and ultimately engage their clients to help make the sale happen.
"The Entrepreneur edition is made for small businesses and individual entrepreneurs who need a powerful contact management solution that fits their business," says Maximizer Software Inc. President Vivek Thomas.
"It's a complete contact management solution that combines business contact management, sales opportunity management, Outlook integration, scheduling, reporting, and document management. With these core capabilities in place, a small business has the tools they need to succeed and grow," Thomas says.
More Entrepreneur Edition Value. Improve Customer Satisfaction, Maximize Productivity and Be Mobile

Easier Sales Management – Manage multiple sales territories, easier pipeline analysis and streamlined email communication to active opportunities.
Improved Time Management – Prioritize follow up tasks, color code activity calendar, and enhanced search options.
Social Media Capability – Generate more leads with LinkedIn Integration and attach social profiles to customer contacts.
Check out these valuable features built into Entrepreneur edition:
Account & contact management
Microsoft Office® and Outlook® Integration
LinkedIn integration
Time management and iCalendar integration
Task management and workflow automation
Sales force automation and forecasting
Sales opportunity management
Reporting
Email and document management
Order Management
Outlook® and Exchange synchronization
Access Options: Windows desktop, mobile
"With all of these new features, Maximizer Entrepreneur Edition continues to provide great value for our CRM users," Thomas says, emphasizing the product's low maintenance, adaptable contact manager for rapid impact at an affordable cost.
"We've always been there to help the small business owner streamline their sales process to improve opportunity tracking, communication and ultimately, closing deals," he adds, noting that Maximizer has been a pioneer in the CRM industry for more than 20 years.