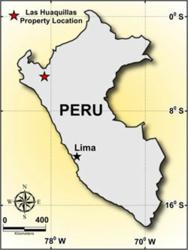 Vancouver, BC (PRWEB) March 12, 2012
Inca One Resource Corp (TSXV:IO), a Canada-based natural resource exploration company, is rapidly advancing the development timeline for its Gold-Copper exploration and development project in Peru - Financial Press
In the last few days Inca One has made multiple announcements of its progress. All of them are a strong sign the company is getting where it wants to go and, on time.
In the first announcement, Inca One stated it has successfully renegotiated its property payments.
This restructuring comes at a critical time for the company and could be very beneficial. As a result, Inca One now does not have to spend any cash on the property until its final drilling and social permits are in hand.
Given the development timeline Inca One has laid out, the company will not have to return to the market for any additional capital raises until its final drilling and social permits are acquired.
In addition the renegotiated property payments deal, Inca One has recently clarified its current position in the overall permitting process. The clarification reveals how far the company has come in a short period of time and how many more regulatory it has left to clear before it can start drilling.
Inca One's progress is evident in its lengthy list of completed tasks:
Socio-Economic baseline Study
Environmental Baseline Study
Water Studies
Development of the Community Relations Plan
Sustainability Program
Those projects often take many months to complete and some require fairly large budgets. Not that they're done, Inca One can move on to the few remaining yet-to-be-completed requirements.
In order to clarify what is left to be done and when it expects to have them done, Inca One has also released the following requirements for each:
Archeological Studies
Complete the drilling application
Provide the files containing the drilling application to the stakeholders
Complete in-person workshop with local stakeholders
Submit the drilling application to the ministry of energy and mines
When it announced this list, the company also stated it expects to have all of these completed within the second quarter of 2012.
Finally, there are two more requirements Inca One must complete.
First is the Development Environmental Impact Statement ("Declaracion de ImpactoAmbiental" or "DIA"). This is required to be submitted to Peru's Ministry of Energy and Mines. It's expected turnaround time is between 10 and 45 days.
Second is the Environmental Impact Assessment ("Estudio de ImpactoAmbiental Semi Detallado" or "EAISD"). This study must be evaluated by the Peruvian authorities as well. And once it is submitted, the turnaround time can last anywhere between 45 days and six months.
Many of these studies, requirements, and applications take months to complete. Inca One has completed most of them and met every commitment it to its development timeline.
After everything is completed, Inca One intends to be ready to drill. And each stage that Inca One successfully navigates, the market grows more and more interested.
Inca One's shares have climbed steadily in the past few weeks. The company's shares have risen from a recent low of 20 cents early in the year to a recent high of 49.5 cents.
The near 150% rise in Inca One's shares has coincided with the steady advancement of the company through the pre-permitting process.
As featured in the past on Financial Press, Inca One's properties have the proven potential to host a significant resource of gold, copper, and other metals.
The historical resource estimate (non-43-101 compliant) of just one part of just one zone which included a single 500 meter section (the Los Socavones Zone), the past operators of the project estimated geological resource of 6.57 million tonnes grading 2.09 g/t Au and 25.2 g/t Ag. That's the equivalent of 443,000 ounces of gold and 5.3 million ounces of silver.
In addition to that, there are three other known zones on the project.
Inca One's current market value is approximately $11 million.
Learn more at Inca One's web site - http://www.incaone.com