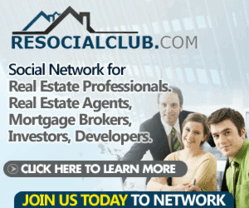 Real Estate Professionals Social network
(PRWEB) March 14, 2012
Using the social media to market a real estate business can be a very tricky proposition. Recently, ReSocialClub.com has been launched with a view of benefiting the real estate professionals to draw favorable attention from the prospective clients. A lot many real estate agents have already started taking advantage of the website. The site allows the members to post photos and videos related to a property. A 360 degree view of a property generates more leads for the property in the fastest possible manner. Moreover, the site has become a hub of the real estate professionals and a member is ensured to get his or her queries answered very fast, as it's an exclusive platform for the real estate professionals.
Basically, a social media platform gives you an opportunity to spread your network and send them your updates on a regular basis. Think you acquired a new property, and thousands of buyers are updated about it instantly. This is now possible with ReSocialClub.com where you will find thousands of real estate professionals online anytime. Many real estate businesses have already adopted the social aspect of doing business with the assistance of ReSocialClub.com.
According to William J Smith, a real estate broker operating in California, "YouTube happened to be my favorite way to share my property related videos online before I came to ReSocialClub.com. On YouTube, a large number of videos are posted every day and it's very challenging that your videos are viewed by the right people and you will get some business lead. But however on ReSocialClub.com, you can rest assured that the right people will view your video and you will get your business prospects extremely fast."
So, as a real estate professional, it's important for you determine the site(s) where you will create your social media profile and start spending your time on marketing. When someone spends time on something, he or she expects some results in return. At ReSocialClub.com, you are assured of availing the benefits of social media in the right manner. If you are trying to consider leveraging social media for the advantage of your real estate business, you need not to ponder over it any more. The site is now available on the web that was a long due to the real estate professionals.
Over the past few years, many realty professionals have been exploring one or other creative way to overcome the crisis hitting the real estate market. Now, ReSocialClub.com exemplifies the innovative uses of social media where real estate pros can actually utilize their online sales skills of using property images, sharing videos, updating listings as well as building an expanded network of real estate professionals. The site ensures that there is no tough time for the real estate professionals actually and they have business round the year.
About Profile ReSocialClub.com
ReSocialClub.com is a social media platform, built exclusively for the real estate professionals. Only real estate professionals are allowed to register on the site and host their profiles. A registered member will have host of networking opportunities on the site. Members can view each other profiles and update and they can interact with each other via online chat. They can share valuable information through blog and forum postings. A member can seek input on complex real estate issues from a number of expert real estate professionals by posting a thread. Moreover, a member can also post images and videos related to their property and generate business leads. The site has been developed to serve the all-round purpose of a real estate professional.
For more details, log on to http://www.resocialclub.com/.