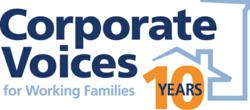 Innovative partnerships between employers and community colleges are essential building blocks in preparing an educated and skilled workforce. This Blueprint presents an outstanding pathway for this joint work.
Washington, DC (PRWEB) March 13, 2012
As communities across the country finalize plans to spend $500 million in new federal grants to build a world-class 21st-century workforce, Corporate Voices for Working Families is being tapped for its expertise and thought leadership in the area of business-education partnerships.
At the invitation of Missouri officials, Corporate Voices will keynote a conference today of college executives and workforce leaders involved in one such business-education partnership, a statewide effort known as MoHealthWINs. The program, comprising a consortium of community colleges that won $20 million in new funding to retrain residents for good jobs in growing health care fields, will hear from Peggy Walton, Senior Director of Workforce Readiness at Corporate Voices. The grant is part of the Trade Adjustment Assistance Community College and Career Training initiative, a federal effort expected to support $2 billion in new training over four years for Americans whose jobs have been adversely impacted by global trade.
Corporate Voices' original research informs publications and tools that are available to all communities seeking innovative solutions to pressing workforce needs. We also offer services to help build deeper strategic engagement and other technical assistance. The latest addition to our library of resources highlights the important ways in which business leaders and postsecondary educators can collaborate to serve their mutual goals. "Business and Community College Partnerships: A Blueprint", offers practical advice, best-practice models, and concrete action steps for business and college leaders who hope to start, sustain, or expand successful relationships. It guides the partnership-building process from two distinct points of view—for employers, and for educators—and details how close collaboration serves the bottom-line interests of both.

For businesses, community college partnerships can offer the single best way to build a strong "talent pipeline" of local employees with the training and skills employers need today and in the near future. Such partnerships can also help businesses retain the best workers, improve employee diversity; and enhance their reputation in the communities they serve.
For community colleges, likewise, collaboration with area employers supports their core mission of preparing students with the skills and credentials they'll need to compete for good jobs in growing industries. These partnerships can also help schools meet a related and urgent national imperative: Boosting anemic completion rates.
The new Blueprint was launched at two of the premier events in the community college field in recent weeks: The League for Innovation in the Community College's Innovations 2012 conference last week, and the American Association of Community Colleges' Workforce Development Institute. Gerardo de los Santos, president/CEO of the League for Innovation, endorsed the Blueprint, saying, "Innovative partnerships between employers and community colleges are essential building blocks in preparing an educated and skilled workforce. This blueprint presents an outstanding pathway for this joint work."
The Blueprint is available for download on the Corporate Voices website.
About Corporate Voices for Working Families
Corporate Voices for Working Families is the leading national business membership organization shaping conversations and collaborations on public and corporate policy issues involving working families. A nonprofit, nonpartisan organization, we create and advance innovative policy solutions that reflect a commonality of interests among the private sector both global and domestic, government and other stakeholders. We are a unique voice, and we provide leading and best-practice employers a forum to improve the lives of working families, while strengthening our nation's economy and enhancing the vitality of our communities. Publications, research studies and toolkits on a host of workforce readiness, workplace flexibility, family economic stability, and work and family balance issues are available online at http://www.corporatevoices.org.
###