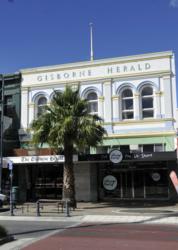 We are replacing our existing systems with new cohesive digital solutions from Digital Technology to achieve current strategic goals and for future expansion of the newspaper.

Michael Muir
Managing Director
The Gisborne Herald
Springville, UT (PRWEB) March 12, 2012
Digital Technology announces an agreement with The Gisborne Herald to implement DTI ContentPublisher and DTI Advertising to enhance the digital efforts of the Gisborne, New Zealand newspaper.
From the city that boasts it's the first to greet the sun each day, The Gisborne Herald is a leader in New Zealand newspaper production. It was the first daily tabloid on the streets – a record that it kept for more than 10 years. It has been operating a number of older editorial and advertising systems and has not been able to transform into a new digital direction. Digital Technology offers The Gisborne Herald a new business model using DTI ContentPublisher and DTI Advertising to become an audience-first publisher—delivering digital news and advertising content to a more targeted audience, and expanding their channels across a variety of digital formats.
"We are replacing our existing systems with new cohesive digital solutions from Digital Technology to achieve current strategic goals and for future expansion of the newspaper," said Michael Muir, Managing Director of The Gisborne Herald. "DTI ContentPublisher provides us creative flexibility to build engaging customer experiences on every channel. DTI Advertising extends our digital ad sales capabilities. The DTI architecture creates new opportunities for us to sell advertising across the newspaper and into website sales. We needed the tools both solutions provide to increase revenue and be the go-to leaders in our media market."
With DTI ContentPublisher, The Gisborne Herald will unify their news team and content, and expand their digital offerings by increasing audience engagement to their print, Web, and mobile platforms. DTI ContentPublisher provides The Gisborne editorial team with a flexible way of pushing up-to-the-minute news to the Web, rather than going through a number of manual interventions.
David Page, Managing Director of Digital Technology Asia Pacific, said: "I am delighted that we are partnering with The Gisborne Herald. Their new digital solution will empower them to distribute their content in a variety of mediums—print, Web, tablet, mobile, etc—and expand their current Web presence for visitors and residents of the Gisborne area."
Page continues, "The new workflow and integrated software components will also provide many new benefits to the company and will enable The Gisborne Herald to grow their new solution over the coming years to incorporate many additional features and help expand their revenue."
DTI ContentPublisher accelerates the flow of content with a high performance, multidimensional database that serves up multimedia content directly to any Web-enabled device.
DTI Advertising is a 100% browser-based digital solution for booking, creating, and publishing all forms of digital and print advertising. DTI Advertising also includes an Accounts Receivable package and is architected for multichannel media companies that sell package buys for all types of ads and marketing campaigns, including Web, print, email, direct mail, inserts, and social media.
Digital Technology delivers Digital All Ways.
About Digital Technology International: Digital Technology International (DTI™) delivers digital audience engagement, digital revenue expansion and digital cost performance for the global news media industry. The company's innovative technology and professional services help media organizations engage audiences by delivering targeted news and advertising with Web, print, mobile and social media. On-site or via DTI Cloud Digital Technology software helps more than 2,000 publishers around the world compete and win across all channels. The company is headquartered near Salt Lake City, with offices in Australia, Brazil, Canada, Denmark, Finland, France, Germany, Panama, the United Kingdom and the United States. Digital Technology may be found at: http://www.dtint.com