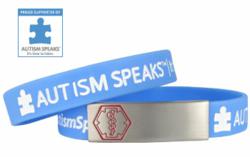 Houston, TX (PRWEB) March 13, 2012
American Medical ID today announced a partnership with Autism Speaks, North America's leading autism science and advocacy organization. The announcement comes ahead of World Autism Awareness Day on April 2, 2012.
As a parent, it is not hard to imagine the fear and panic that sets in when a child goes missing. Where to look, who to call, and the police at your door are all quick and common thoughts for parents of any child, but what if that child also has autism?
This is frightening enough for any parent, but when the child has autism there is an entirely different level of concern due to the child having neither the usual respect for strangers nor the developed situational fear of danger that keeps most kids out of harm's way.
Each year across the country, children and adults with autism spectrum disorders go missing from their families. Often the person with autism passes people on the street and no one helps or even understands that help is needed. To keep these events from escalating, it is important for everyone to help build awareness in their community about autism spectrum disorders.
For these reasons, it is recommended that children and adults who have autism spectrum disorders and who are prone to wandering, are non-verbal or would have problems communicating during an emergency, wear a medical ID bracelet or pendant. The medical ID should include the wearer's name, their condition and at least one emergency contact's name and telephone number.
As part of the partnership, American Medical ID will begin selling a special edition medical alert ID that incorporates an Autism Speaks awareness bracelet. A portion of the proceeds will be dedicated to funding research into the causes, prevention, treatments and a cure for autism, increasing awareness of autism spectrum disorders, and advocating for the needs of individuals with autism and their families.
"We are proud to be partnering with Autism Speaks. It is great to know that not only do medical IDs give many members of the autism community some peace of mind, but that a significant portion of the sales proceeds will go toward funding research, increasing awareness and advocating for individuals with autism and their families," said Rick Russell, CEO of American Medical ID.
In addition to funding research, Autism Speaks has created resources and programs including the Autism Speaks Autism Treatment Network, Autism Speaks' Autism Genetic Resource Exchange and several other scientific and clinical programs. Autism Speaks has played a critical role in securing federal legislation to advance the government's response to autism, and has successfully advocated for insurance reform to cover behavioral treatments in 29 states thus far, with legislation continuing to advance in more states. Notable awareness initiatives include the establishment of the annual United Nations-sanctioned World Autism Awareness Day on April 2, which Autism Speaks celebrates through its Light it Up Blue initiative.
Since 1994, American Medical ID has created high quality, customized medical identification to meet our customers' everyday lifestyle. Medical IDs are available in a variety of bracelet and necklace styles for adults, teens and children. Every ID is personalized with complimentary engraving. Candidates for a medical ID include anyone living with diabetes, asthma, heart conditions, autism spectrum disorders, stroke risk or memory impairment;, persons with allergies such as food, drug or insect;, and those taking multiple medications or blood thinners. For more information about American Medical ID, visit http://www.IdentifyYourself.com, email info(at)americanmedical-id(dot)com or call 800.363.5985.
If you would like more information about this topic, or to schedule an interview, please contact Justin Noland at (713)600-6713 or email JustinN(at)IdentifyYourself(dot)com.