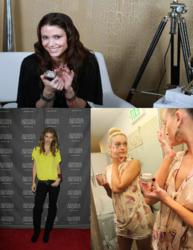 I won't leave the house or go on camera without Adonia EyeTherapy.
Los Angeles, CA (PRWEB) March 13, 2012
Adonia Organics' new EyeTherapy Serum, is already a hit with dozens of A-list Hollywood celebrities and is expected to draw big crowds for its official launch.
Dark circles and puffy eyes are one of the most common beauty problems for women. In contrast to cosmetic procedures and traditional products for puffy eyes and dark circles, Adonia Organics' innovative new EyeTherapy Serum is an eye treatment made with plant stem cell technology and organic ingredients that together have yielded impressive results in clinical studies.
In recent independent clinical studies conducted by AMA Laboratories, Adonia EyeTherapy was shown to deliver attractive, younger-looking eyes in just 21 days. AMA Laboratories stated "it has been documented that Adonia EyeTherapy Serum has shown an average reduction of dark circles and puffy eyes by 58% in the first 21 days. Further results were documented at an average of 86.67% reduction of dark circles and puffiness at 8 weeks of use."
Anticipation of the release has retailers expecting strong demand for the new puffy eye, dark circle treatment serum after several big name entertainment personalities spoke out in favor of the product. Peta Murgatroyd of "Dancing with the Stars" admits, "I won't leave the house or go on camera without Adonia EyeTherapy." Other celebrity fans of the Adonia collection include: Denise Richards, Nicole Scherzinger, Shannon Elizabeth, Giuliana Rancic, Audrina Patridge, Annalynn McCord, and Pamela Anderson.
Adonia Organics EyeTherapy treatment is available now online at http://www.AdoniaEyeTherapy.com and available at retail locations across the United States.