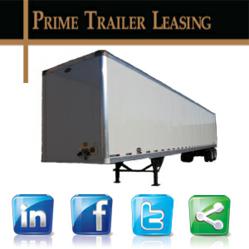 Relationships Matter
Denver, CO (PRWEB) March 28, 2012
Prime Trailer Leasing has forged a partnership with skybitz, a GPS asset tracking company that is well known within the industry. This partnership will help bring a higher level of service to Prime Trailer Leasing's already large fleet of dry vans, flatbeds and refrigerated trailers. Equipping their late-model dry van rentals and refrigerated trailers with GPS tracking units provided by Skybitz will further help benefit the customers they have served for many years.
Customers who take advantage of these GPS tracking units will be able to receive a location on their rented trailers once a day, and will also be able to "ping" the trailers to allow instant locating when they need them. Industry experts know that an idle trailer is a liability and keeping assets in motion, and working towards the bottom line is critical to the annual success of any profitable company. These Skybitz GPS units will help companies reach that goal while taking the guess work out of locating units.
In addition to the above mentioned functionality, customers will be able to group assets by location or by asset ID, and will also be able to know when trailers are crossing state or country borders.
Prime Trailer Leasing has seen great early results with their customers who have taken advantage of these services and they are excited to server their customers with greater effectiveness and service.