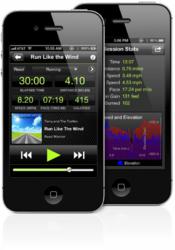 Think of it as getting up to 1.5 miles for every 10 miles you run, for free
Lehi, Utah (PRWEB) March 13, 2012
Bowlegged Turtle Designs, LLC has released version 1.1 of their popular FitBeat music app for runners and fitness enthusiasts. FitBeat automatically synchronizes music to the beat of a user's motion to increase endurance, performance and enjoyment during exercise.
"FitBeat was designed to put some fun back into fitness and give people a natural performance boost at the same time" said Josh Kapp, CEO of Bowlegged Turtle Designs. "We've had exceptionally positive feedback from our customers. Once people try it and see immediate results they realize that this is not a gimmick--it's a serious fitness tool."
The company sites recent exercise research published by London's Brunel University showing that exercising to the beat can improve endurance by as much as 15%. "That's significant. Think of it as getting up to 1.5 miles for every 10 miles you run, for free," said Kapp. The studies showed that such exercise actually caused individuals to use oxygen more efficiently and derive more pleasure from the activity.
FitBeat's proprietary technology is unique in its ability to perform beat synchronization automatically and precisely. The company feels this gives it a leg up on existing fitness music apps that merely select songs with approximate tempos or force users to follow a specific tempo.
In addition to its unique musical capabilities, the app also tracks critical exercise stats using GPS. Elapsed time, distance, average and maximum speed, pace, calories burned and elevation gain. Displays have been optimized for easy outdoor visibility. Stats and musical selections can be shared via Twitter from within the app.
The FitBeat 1.1 release streamlines the interface for stationary and indoor exercises for use at the gym. It also improves responsiveness and resolves some minor issues with audio playback.
The app is currently available for purchase from the Apple App Store and is a free upgrade for existing customers. It is compatible with iPhone 3GS and iPod Touch 3rd generation devices running iOS 5.