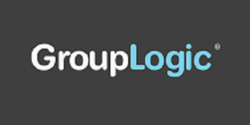 Solutions such as activEcho address the need for simple file sharing between employees and key external audiences, and at the same time give IT the ability to secure the file sharing process and meet compliance regulations.
Arlington, VA (PRWEB) March 13, 2012
GroupLogic®, the industry's leading provider of software products that unlock the power of new enterprise platforms, today introduced activEcho™, the only secure Enterprise File Sharing and file syncing solution designed with the security, control and deployment options required by enterprise IT. activEcho is generally available today.
activEcho is the industry's only Enterprise File Sharing solution that balances the need for simplicity for the end user, and the security, management and flexibility required by the enterprise. Both individuals and teams can share and sync files securely with one another and access those assets on multiple devices, including desktops, tablets and smartphones.
"To remain competitive, today's enterprise is increasingly mobile and collaborative. For the IT organization, the ability to offer file sharing among multiple devices while maintaining administrative control is fast becoming a necessity to enable a productive workforce," said Brad Nisbet, Program Director, Storage and Data Management Services of IDC. "Solutions such as activEcho address the need for simple file sharing between employees and key external audiences, and at the same time give IT the ability to secure the file sharing process and meet compliance regulations."
activEcho has been in beta testing for over three months with more than 50 organizations. Many of those beta organizations are in regulated industries such as financial services, legal, healthcare and others.
"Our users – including executives with iPads – are in need of a simple solution for sharing and collaborating on files and synchronizing those files across their desktops, laptops and tablets. Before we found GroupLogic, we looked at various cloud-based solutions – but they were very consumer-oriented and didn't address our security and compliance needs. In particular, we just don't want our data off-site where we can't control it," said Ron Kuykendall, Chief Information Officer of Bank of the Ozarks. "GroupLogic's activEcho provides the simple sharing and synchronization to make our users more productive – both internally and working with customers and partners outside the firm. And it supports iPad and other mobile devices. But, unlike consumer-oriented solutions that are out of our control, we can run activEcho on our own infrastructure, and we get the security, visibility and compliance capabilities that we need."
Features of activEcho include:

Integration with Active Directory for ensured security and user permissions.
Support of multiple deployment options including on-premise.
Rapid configuration of user blacklists and whitelists to ensure file and sharing access follows enterprise security and compliance requirements.
Simple install and rapid deployment on multiple platforms.
Intuitive end-user experience that requires minimal training.
Encryption of data at rest with AES-128 and AES-256.
HTTPS encryption of data in motion for the secure access and sharing of files residing on multiple devices.
Full logging, tracking and history of file activities for auditing and compliance.
Instant notifications and alerts for improved collaboration.
"activEcho was designed to balance the file sharing requirements of the enterprise and its users in a secure and auditable way," said Chris Broderick, CEO, GroupLogic. "activEcho customers can securely enable file sharing for their employees and business partners through a variety of deployment models. For the end-user, the experience is simple, familiar and seamless so employees can collaborate and share."
Interested organizations can take advantage of GroupLogic's free trial of activEcho by visiting: http://www.grouplogic.com/enterprise-file-sharing/file-sync/free-trial.html. activEcho is priced per user, and interested organizations can request a quote here: http://www.grouplogic.com/enterprise-file-sharing/file-sync/elp-request-form.html.
About GroupLogic
GroupLogic® helps enterprise and education IT organizations simply and securely integrate diverse computing platforms into enterprise environments, connecting employees to enterprise files, content and assets to facilitate a more productive and efficient work environment. With more than two decades of experience, GroupLogic leads the marketplace in helping IT organizations effectively and easily manage the integration of Apple products into the enterprise ecosystem. Whether IT organizations are looking to integrate existing Apple assets, purchase additional Apple hardware like Mac and iPad, or want to take advantage of the hardware costs savings that accompany the adoption of IT consumerization, GroupLogic enables IT organizations to easily and securely manage the rapid integration of diverse platforms while ensuring resources are optimized. GroupLogic enables the enterprise to focus on what is really important – competitive differentiation, improved employee productivity, mitigated risk and reduced costs. GroupLogic's proven products—mobilEcho, ExtremeZ-IP, ArchiveConnect, and MassTransit—are in use by some of the world's most innovative companies, including Christie's, International Greetings and Omnicom Group.
###
GroupLogic®, activEcho™, mobilEcho™, ExtremeZ-IP®, MassTransit®, Zidget®, ShadowConnect™ and ArchiveConnect™ are all registered or unregistered trademarks of GroupLogic, Inc. All other trademarks referenced herein are the property of their respective owners.
© 2012 GroupLogic, Inc.
All Rights Reserved.