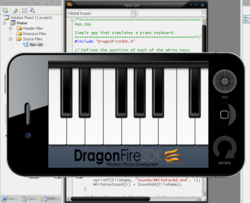 Create an iPhone or iPad app without ever leaving Windows!
Dallas, TX (PRWEB) March 14, 2012
Zimusoft, Inc. has released version 2.1 of its popular DragonFireSDK iPhone Library for Windows which has already enabled thousands of Windows developers to write iPhone apps in C and C++ without ever leaving Microsoft's familiar Visual Studio development environment. The product provides developers with a Windows on-screen iPhone Simulator that will run the apps they create, allowing them to test their iPhone apps even if they don't own an iPhone! Before DragonFireSDK, developing iPhone apps required that a programmer buy a Mac, learn the Objective-C language and begin a 6 month voyage to writing an iPhone app that should have been done in 6 weeks!
"Our market is obviously Windows programmers – most of them weekend warriors who want to feed the insatiable appetite that millions of iPhone owners have for apps," said Dave Edwards, Zimusoft's Software Architect. "Windows programmers by day are iPhone owners – and they want to become iPhone programmers by night. No doubt, the iPhone is the most exciting new wireless device we have ever seen – we all want to program it!"
DragonFireSDK has almost no learning curve for C/C++ programmers. A simple new idea for a game can be brought to life in a couple of weeks in many cases. The iPhone is a playground for programmers – so it's fun, but it's also a great resume item that can demonstrate initiative and the ability to grasp new technologies to future employers.
Yes, the leading iPhone/iPad SDK for Windows just got better!
The new 2.1 release of DragonFireSDK is available for both the iPhone and iPad. Notably, it now allows programmers easy access to the Box2D Physics library (by Erin Catto) which makes it easy to create games like the immensely popular "Angry Birds" (by Rovio). In addition, there is support for SQLite, In App Purchase, Game Center (high scores) and iAds. Other fundamental features include View Containers (of containers), Multi-line Edit, Internet Data Transfer, Text Editing, Image Control, GPS, Accelerometer, Camera, Multi-touch, Vibrate, Draw, File IO, Buttons, Bitmaps and Sounds. Everything you need is included to create a high-speed native iPhone or iPad app.
Publishing an app to iPhone App Store is easy from Windows. In a few clicks you get back a zip file that is code signed and ready for submission to the app store. There are already a huge number of apps in the App Store that were created with DragonFireSDK. Now, you can even test your app in your iPhone using the new OTA system (wireless Over-The-Air download feature).
Zimusoft has also created a new division that provides contract development of iPhone apps. A typical iPhone app costs only about $5000 to develop. Email dave@zimusoft.com for a quote. Programmers who want contract work writing iPhone apps should also contact us. There are lots of new opportunities related to DragonFireSDK iPhone app development.
DragonFireSDK iPhone programmers say it's fun to write iPhone apps - it's a great resume item and a great way to make extra money programming.
The Zimusoft development team members are simulation specialists. DragonFireSDK is the company's iPhone development library for native iPhone and iPad apps written in Windows. UmbrellaSDK is the company's cloud-based mobile app development platform that includes Android apps and runs inside a browser!
DragonFireSDK has been featured in SDTimes and was selected by Dr. Dobbs for the Mobile Technology Jolt Award.
Press Contact:
Cole Edwards, cole(at)zimusoft(dot)com
Zimusoft, Inc.
(469) 569-7823
DragonFireSDK is Zimusoft's iPhone Library and Simulator for Windows
iPhone is a registered trademark of Apple, Windows is a registered trademark of Microsoft