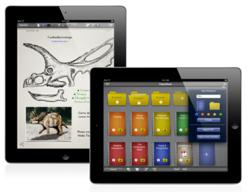 The philosophy behind the design of PaperDesk aims at maintaining a simple interface that mimics the freedom of pen and paper
Ann Arbor, MI (PRWEB) March 19, 2012
Indie app developer, WebSpinner, LLC, announced the launch of PaperDesk 4 on the iOS App Store, equipped with revolutionary features. The philosophy behind the design of PaperDesk aims at maintaining a simple interface that mimics the freedom of pen and paper, while simultaneously boasting a large variety of powerful features.
The new version of the app now gives users complete control over the text color and font, while ensuring their notes snap to the lines of the "paper," continuing with the philosophy that PaperDesk should be a streamlined pad of paper, not a complex word-processing app. The developers have continued to improve the app's drawing functionality to closely simulate smooth, gel ink, while at the same time, allowing the user to rest their wrist on the screen, just as they would when using a real pad of paper.
The update to the app, published today, also introduces an automatic upload-to-Dropbox feature that safely backs-up users' notes at custom intervals and keeps up-to-date PDF versions of all notes on Dropbox. Additionally, PDF files may be imported into PaperDesk, annotated with text, drawing, and photos, and shared via email, Twitter, Dropbox, or Google Docs.
PaperDesk's robust feature set also includes:

Audio recording linked to text: tap a word and PaperDesk scrubs to the point in the audio recorded when the chosen word was typed
Insert photos into your notes: directly from the iPad front or rear camera, or from your photo library
Custom keyboard with common symbols used by students in math and science
Notebook-linked task list along with push notifications for reminders
Organizable folders to hold notebooks
PaperDesk, one of the first full-featured note-taking apps on the iPad, saw immediate success and has been frequently featured in the App Store, as well as spotlighted in TUAW and PadGadget. Most recently, the app has been headlined by ZDNet and Gizmodo, and it remains a high-ranking app in the App Store's Productivity section.
The new version of PaperDesk is available today at a 75% discount off the normal price, for a limited time. More information about PaperDesk can be found at mypaperdesk.com
PaperDesk performs beautifully on all three generations of the iPad, and its latest update is specially designed to include high-resolution support for the new iPad Retina display.