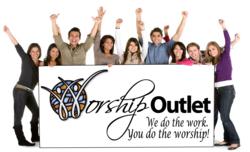 WorshipOutlet is providing us with creative worship resources that provide a real impact for our worshipers.
Omaha, Nebraska (PRWEB) March 13, 2012
"How can we create a worship experience that is relevant to our worshipers?" This is the question that pastors and worship leaders are asking as they prepare for the end of Lent and the celebration of Easter on April 8th.
This questions is not new. This is a dilemma that has existed in the Christian church since the beginning. In recent history churches have addressed this dilemma in varying ways; from the addition of a contemporary worship service with upbeat music and perhaps little to no liturgy, to the implementation of a more traditional worship style. In every church diligent worship planners, musicians, pastors and leaders, work hard to meet the challenge of creating worship experiences that are memorable and relevant.
This dilemma of creating such experiences for Easter can be extremely challenging year after year. "Seems like every year it should get easier to plan Easter worship. Yet, it becomes increasingly more challenging. The expectations of worshipers are higher because of this high impact media and music culture we are living in today." says Pastor Brad Hoefs of Community of Grace Church in Omaha, Nebraska. "Continually I am looking for resources to help me in making the worship experience something that is true to the Word of God, but also uses the heart-language of today's culture through language, music and visually." says Hoefs.
Because of this challenge for worship planners, they seek out worship resources such as WorshipOutlet which is a a cross-denominational ministry that has the sole purpose of providing creative, engaging resources for worship that are not only founded in Biblical truth, but also relevant to the culture and people of the 21st century church.
WorshipOutlet offers resources that are theologically and Biblically sound, as well as completely customizable and adaptable to the context of your congregation. These resources range from weekly services to worship services for holidays such as Easter.
J. P. Davidson, founder of WorshipOutlet says that he believes that WorshipOutlet continues to grow significantly because of the challenge of meaningful worship that worship planners not only face at this time of the year, but each week of the year. Davidson reports that just one of their numerous resources called "Worship Alive Plus!" alone reaches over 175 churches and 40, 000 worshipers on any given weekend and is based on the 3-year rotation of protestant liturgical readings and people have been finding it through Google searches online.
Because of this growing need Davidson says that WorshipOutlet is in the process of expanding WorshipOutlet by offering a brand new worship resource that is particularly for non-liturgical churches. He says that it will be called "Simple Worship". It will offer a text, theme, sermon outline and notes, complete music selections (both traditional hymns and contemporary worship music) and also specially designed PowerPoint slides created around the theme. Davidson says, "We've had a lot of non-liturgical churches sign up on our site and many of them have requested resource materials that would offer these things. So, we have stepped up to the challenge to offer this to the over 900 churches that use our site."
Since its beginning in 2007, WorshipOutlet has grown to over 900 churches using the site from 27 different countries as well as the United States and representing five different Christian denominations (Lutheran, Methodist, Presbyterian, Episcopalian and Evangelical Non-Denominational). "We continue to receive reports from around the globe of churches that are experiencing worship attendance growth." says Davidson. He says that they attribute the growth to the fact that their resources are creative and customizable. Davidson says, "We are grateful to the Lord to be able to serve His people in this way and are committed to staying faithful to Him."
WorshipOutlet has also drawn the support of Lutheran Fraternal Organization Thrivent Lutheran, which recently extended a $500,000 grant to further the ministry. Since newsgroups from across the US published the news of the grant, followers on Facebook grew by 1000% while Twitter followers increased by 2000% proving that WorshipOutlet truly has made an impact, and continues to make an impact, in the lives of worship planners, leaders and worshipers alike.
###