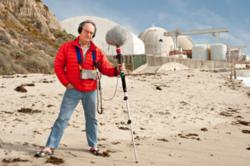 "Our goal in making BURN: An Energy Journal is to help engender discussion and civil debate so we can find some practical, non-ideological answers to these pressing energy problems," says Bari Scott, executive producer of SoundVision Productions.
Los Angeles, California (PRWEB) March 14, 2012
Peabody Award-winning SoundVision Productions' ® BURN: An Energy Journal, debuted this past weekend on public radio, public television and multiple news outlets including Salon, Detroit Free Press and The Sacramento Bee. Part One of the four-hour, four-part broadcast and digital documentary series hosted by one of public radio's most trusted journalists and master storytellers, Alex Chadwick is titled "Particles: Nuclear Power After Fukushima" marked the first anniversary of the Fukushima nuclear disaster in Japan. The program will broadcast in all "Top 10" public radio markets with carriage close to 250 stations nationwide. The series' online presence includes Burn: An Energy Journal Website, the Facebook page, and a YouTube channel.
For BURN: An Energy Journal, Chadwick, a beloved public radio correspondent with 30 years of broadcast experience whose storytelling abilities and integrity have been compared to Charles Kuralt's, finds intimate, human-scale stories to explain and explore the very serious energy challenges that face communities across this country and around the world. He interviews an intriguing array of scientists and engineers, policy makers and citizen activists, research visionaries and maverick inventors, concerned parents and committed young people. These personal stories illuminate how and why we face an energy crisis, the dilemma of the continuing demand for energy, the realities and consequences of a mostly carbon-based industry and infrastructure, and some possible alternatives to what looks increasingly to be an ever-more-challenging energy and climate future in the coming decades.
"With all the news coverage of gas prices, energy security and global warming, most of us are simply overwhelmed," says Bari Scott, executive producer of SoundVision Productions. "Our goal in making BURN: An Energy Journal is to help engender discussion and civil debate so we can find some practical, non-ideological answers to these pressing energy problems. We have to do more than just recycle and change our light bulbs. We have to understand what is truly at stake and be able to talk about it. I hope this series will help motivate people to become part of the solution."
In Part One, "Particles: Nuclear Power After Fukushima," which is airing on the first anniversary of the disaster on March 11, Chadwick examines the future of nuclear power after the disaster and asks the essential question: "What have we learned from Japan . . . and now what?" Among other stories, he presents recordings of telephone and other conversations from the Nuclear Regulatory Commission's Emergency Operations Center in the early days of the disaster, released at the request of BURN. Chadwick profiles Greg Hardy, a Los Angeles-based engineer who has spent much of his career examining the vulnerability of nuclear plants to earthquakes. Hardy says he's comfortable living between two nuclear facilities along California's coast, even after Fukushima. But Hardy's wife is skeptical. The show travels to Japan, where PBS Newshour reporter Miles O'Brien reports from inside the exclusion zone. The series also visits Germany, where the government plans to shut down its nuclear reactors by 2022.
Finally, Chadwick conducts an exclusive, first-time-ever interview with an American technical worker who was on-site at the Daiichi nuclear plant when the earthquake and tsunami struck. Carl Pillitteri, a maintenance supervisor and one of 40 Americans in Fukushima on that fateful day, describes his terrifying ordeal as he desperately attempted to lead his men to safety through the enormous, shuddering turbine buildings in total darkness.
BURN: An Energy Journal's three other one-hour specials include:

Hunting for Oil | Risks and Rewards - An Earth Day special that coincides with the two-year anniversary of the April 20 Deepwater Horizon oil spill, the worst in U.S. History. What became of all that oil? And what's the future of offshore drilling? What are our options?
Energy Efficiency | Taking It to the Streets - A one-hour special for the Fall, 2012, dedicated to the promise of energy efficiency. Energy Secretary Steven Chu says "Energy efficiency isn't just low hanging fruit; it's fruit laying on the ground." Beyond petroleum, coal, nuclear and alternative energy, many believe efficiency is the "fifth fuel, "a huge, untapped resource.
An Energized Presidency - The culminating hour of BURN will be an Election Special for broadcast in October, 2012. Should we have a comprehensive national energy policy rather than a patchwork of laws and regulations? BURN will explore our energy policies and how they're being defined by the political parties and 2012 presidential candidates.
BURN: An Energy Journal is produced by SoundVision Productions in partnership with APM's Marketplace and The Story, PBS' Newshour, and with a grant from the National Science Foundation. The BURN radio specials are distributed by American Public Media.
For media inquiries, contact Scott Busby at scottb(at)thebusbygroup(dot)com or 310.475.2914. For more information about BURN: An Energy Journal, go to our website or contact Managing Producer Mary Beth Kirchner at MBK(at)BurnAnEnergyJournal(dot)com.