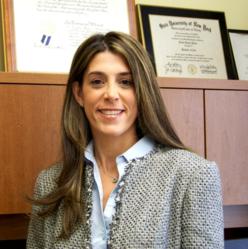 (PRWEB) March 14, 2012
With National Financial Literacy Awareness Month coming up in April, Leslie H. Tayne, Esq., managing director of the Law Offices of Leslie H. Tayne P.C., has announced the launch of "Tayne Your Debt," a new financial series aimed to educate those facing monetary hardships. Serving audiences from teens about to enter college to seniors now finding themselves in debt, Tayne discusses topics ranging from financial literacy and budget planning to debt relief. She is now booking engagements into April and beyond.
As a debt-resolution attorney Leslie Tayne has helped thousands of people manage their money and enjoy a fiscally healthy lifestyle. Her new speaking tour, "Tayne Your Debt," tackles common financial problems head-on in an engaging and casual conversation. Focused on three age groups – high school teens, college students and senior citizens – each edition of "Tayne Your Debt" is unique and tailored to address the audience's specific needs.
HIGH SCHOOL EDITION
As teens approach adulthood it is important that they become financially literate. Learning about school loans, credit and savings early on is essential in an age where more and more parents are unable to take on the financial responsibilities associated with their children's college education. Young adults with low credit scores may struggle to maintain a bank account, build savings and secure student loans. Poor decision making early on can have long-lasting implications, but is also easily preventable.
"Tayne Your Debt: High School Edition" is a dynamic, age-appropriate program which offers teens simple techniques to manage money, avoid debt and ultimately become financially literate individuals. Tayne addresses a number of topics including how to open a bank account, achieve good credit, analyze student loans and maintain a debt free lifestyle.
COLLEGE EDITION
College can be a financially dangerous time for young adults. Even college students with good intentions can fall into debt. It's often the first time they are living independently and making their own monetary decisions. The college years have a substantial impact on a young adult's future financial standing. Instilling positive financial values and practices now is vital for long-term fiscal health.
"Tayne Your Debt: College Edition" educates college students, whether they are away at school, or attending school while living at home, the importance of making responsible financial decisions. Tayne offers practical advice for saving and budgeting while still having fun. She will also address the ins and outs of managing student loans and understanding credit and debts.
SENIOR EDITION
Struggling to remain financially independent, senior citizens must overcome a unique set of hardships. Confronted with retirement expenses and dwindling Social Security support, many find it difficult to manage credit card and medical bills on a limited income. An AARP study showed that between 1991 and 2007, the number of people aged 65 and older who filed bankruptcy went up by 150 percent due to their overwhelming debt and rising medical costs.
"Tayne Your Debt: Senior Edition" offers tips and advice to individuals facing, or about to face, financial hardships due to aging. The program provides post retirement money management skills, budget development and debt credit awareness with proven solutions to ease financial stress resulting from steep cuts in household income. Tayne also offers insights on planning for retirement and how to live debt free.
A frequent public speaker, Leslie Tayne has more than a decade of experience in debt-related services and concentrates in the unique practice area of consumer debt resolution and bankruptcy avoidance. Her firm, with offices in Westchester County and Long Island, delivers comprehensive consulting and support services to resolve unsecured debts including credit cards, unsecured loans, lines of credit and consumer-based loans.
"The process of becoming debt-free need not be an overwhelming one," said Tayne. "No matter what stage of life you're in, my goal is to reshape your financial outlook with simple, achievable steps that will allow you to start taking control of your fiscal health."
To schedule Ms. Tayne for a speaking engagement or interview, please contact Elizabeth Crenson of Co-Communications Inc. at 914-666-0066 or elizabeth@cocommunications.com.
About the Law Offices of Leslie H. Tayne
Based in Melville, N.Y., the Law Offices of Leslie H. Tayne is the only New York State practice whose sole specialty is consumer debt resolution. Founded in 2000, the company has expanded into Westchester County with offices in White Plains and Mount Kisco, N.Y. On average, Leslie H. Tayne is able to settle debts for 38 to 42 percent less than what is owed, and can handle any amount of debt over $5,000. Tayne, who previously served as the chief in-house counsel of a national financial company, where she oversaw the resolution of hundreds of thousands of dollars in unsecured debts, attended Touro Law School and was a member of the Moot Court Board. A mother of three, Tayne is also associated with the Westchester County Bar Association, the Suffolk County Women's Bar Association and the Melville Chamber of Commerce, among many other groups. Visit The Law Offices of Leslie H. Tayne online at http://www.attorney-newyork.com or call toll-free at 866-890-7337.
Press Contact:
Elizabeth Crenson
Co-Communications
914-666-0066
Elizabeth(at)cocommunications(dot)com