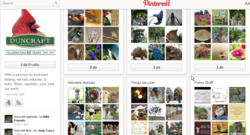 It's so much fun finding interesting things to share with our customers on Pinterest.--Mindy, Customer Service Representative
Concord, NH (PRWEB) March 22, 2012
A manufacturer of products and supplies for wild bird enthusiasts, Duncraft entered the social media scene more than three years ago with a Twitter account which now enjoys 23,900 followers. Also involved with Facebook, Duncraft's Facebook Fan page is highly interactive, enabling the company to reach over 3500 Fans and over 880,000 "friends of Fans". Through daily posts, Duncraft can share photos, product and other videos, contests, blog articles or anything that might be of interest to wild bird lovers. And customers respond in kind with images of their backyards, beautiful birds they have seen or want to see and they can ask the questions they need answered in order to enjoy their wild birds even more.
Now Duncraft is using Pinterest to further engage customers. With Pinterest, "boards" can be created which organize information, ideas and photos about specific subjects. When items of interest are found, an image found in a web page can be "pinned" onto the appropriate board. A few of Duncraft's boards are "Beautiful Birds" "Wild Friends and "Favorite New Products". The latter gives Duncraft an opportunity to display their most recent product videos. Pinterest users, both companies and individuals, can follow each other's pages. It's a highly visual way for a company to interact with and learn from customers about the subjects in which they are most interested.
Founded in 1952 and located in Concord, New Hampshire, Duncraft's objective is to bring the joy of backyard birding to wild bird lovers all across the country. Mike Dunn, owner and CEO is constantly inventing and searching for innovative ideas in bird feeding—giving bird lovers years of bird feeding enjoyment, success and satisfaction.
Duncraft
102 Fisherville Road
Concord, NH 03303
603-224-0200