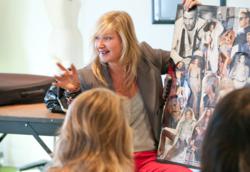 Los Angeles, CA (PRWEB) March 13, 2012
Entertainment Set Design Students from FIDM Los Angeles were recently treated to a private screening of Hugo and conversation with Academy Award-winning director Martin Scorsese. FIDM Instructor Denny Dugally, who works on the Lifetime Television show The Client List, arranged for this incredible opportunity. FIDM is known for its strong industry connections and students from all majors benefit from these priceless experiences.
Graphic Design and Digital Media Students had the opportunity to meet and learn from music video director Isaac Rentz who works with Blink-182, Cage the Elephant, The All-American Rejects, Pistol Youth, and Manchester Orchestra. "Anything you can do to stay curious and stay creative is not only going to make your work better, but it makes you happier as a person," he told students. "I think that a lot of times people get discouraged when [after] one or two years into what they're doing, they're not seeing enough of a forward movement. You hit sort of a wall at a certain point and you just have to keep on going."
Costume designer Mona May, who has worked on films such as Clueless, Enchanted, and The Wedding Singer, also provided inspiration for FIDM students during an hour-long chat on campus. The Q&A session covered everything from May's start in the movie industry to her creative process. "In costume design you are not designing for the trends. You are designing for a character," she said. "You have to think, 'What makes this character different? What is their transformation?'"
FIDM/Fashion Institute of Design & Merchandising is a co-educational, specialized, private college dedicated to educating students for the Fashion, Graphics, Interior Design, and Entertainment industries. Known as a one of the top fashion design schools, FIDM is also a leading graphic design school and digital media college. Visit fidm.edu for more information.