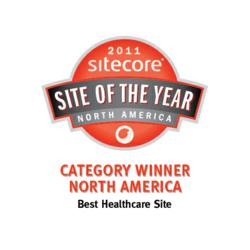 Parse3 has demonstrated excellence in creating a website that combines a creative design with rich data sources and applications to educate, inform and motivate website visitors
Warwick, New York (PRWEB) March 14, 2012
Software Solutions and Web Development Company, Parse3, announced today that it has been named the North American Sitecore Site of the Year healthcare category winner. Parse3 is being recognized for its use of Sitecore's Web Content Management (CMS) and digital marketing technology to develop more effective business processes and advanced web strategies for customer, California HealthCare Foundation.
CHCF.org, which won in the healthcare category, is the flagship site of the nonprofit, grant-making philanthropy, California HealthCare Foundation. The Foundation works as a catalyst to fulfill the promise of better health care for all Californians. It supports ideas and innovations that improve quality, increase efficiency, and lower the costs of care. The new site, created in conjunction with agency partner, Project6 Design, provides a more engaging online gathering place for grantees and a better way to deliver their large library of content and information through multiple marketing channels in a synchronized and automated fashion.
"Parse3 has demonstrated excellence in creating a website that combines a creative design with rich data sources and applications to educate, inform and motivate website visitors," said Jason Crea, VP Client and Partner Engagement, Sitecore. "We were impressed with the overall user experience of the site."
Sitecore's Site of the Year contest recognizes organizations that have leveraged Sitecore's technology to develop the most outstanding websites. Nominations are judged on creativity, integration with rich data sources and applications, the ability to engage, educate and motivate an action, and the overall user experience. The Sitecore Site of the Year contest is divided into four regions, International, Denmark, UK, and North America.
About Parse3
Parse3 is the leading NY-based provider of world-class software solutions and a trusted Sitecore Partner. They focus on providing end-to-end software solutions designed to build long-term brand value for their customers as well as deliver tangible business results. Since 1997, Parse3 has built a reputation for technological excellence by delivering reliable, predictable solutions, on time and on budget.
About Sitecore
Sitecore redefines how organizations engage with audiences, powering compelling experiences that sense and adapt to visitors both online and in-person.
Sitecore 's leading Content Management System software is the first to cohesively integrate with marketing automation, intranet portal, e-commerce, web optimization, social media and campaign management technologies. This broad choice of capabilities enable marketing professionals, business stakeholders and information technology teams to rapidly implement, measure and manage a successful website and digital business strategy. Businesses can now easily identify, serve and convert new customers with Sitecore's Digital Marketing System, part of its encompassing Customer Engagement Platform.
Thousands of public and private organizations have created and now manage more than 32,000 dynamic websites with Sitecore including ATP World Tour, CA Technologies, Comcast, Heineken, Microsoft, Omni Hotels, Siemens, The Knot and Verizon.