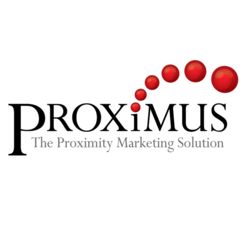 ...we applaud Proximus Mobility... for standing out as leaders in innovation and in Georgia's technology community.
Atlanta, GA (PRWEB) March 13, 2012
The Technology Association of Georgia (TAG), the state's leading association dedicated to the promotion and economic advancement of Georgia's technology industry, today announced Proximus Mobility, a hyperlocal proximity marketing software company, as one of its Top 40 Innovative Technology Companies in Georgia. TAG will recognize this prestigious group at the 2012 Georgia Technology Summit (GTS) on March 28, 2012, at the Cobb Galleria Centre.
TAG'S Top 40 Awards recognize Georgia-based companies for their degree of innovation, the scope and financial impact of their innovations and effect of such innovation in promoting Georgia's technology industry throughout the U.S. and globally.
"The Top 40 companies are shining examples of what makes Georgia a hotbed for innovation in technology," said Tino Mantella, president & CEO of TAG. "Georgia is home to more than 13,000 technology companies, so we applaud Proximus Mobility and the other 2012 Top 40 finalists for standing out as leaders in innovation and in Georgia's technology community. These are the types of companies that will help Georgia become recognized as one of the top states in the nation for technology."
"This year we had a 30% increase in the number of applications over the past few years. We were very impressed by the quality and breadth of technology companies that applied," said Dennis Zakas, a partner and founder of Zakas & Leonard, LLP, Chair of Group Office Buys, LLC, and chairperson of the Top 40 Selection Committee. "It was very difficult to choose the Top 40 because of the large number of deserving companies. We expect great things from Proximus Mobility and our other winners."
"We are honored to be recognized by the Technology Association of Georgia as one of the Top 40 Technology Companies in Georgia. This is a great accomplishment for our employees and for our industry-leading location based proximity marketing technology," stated Proximus Mobility CEO Michael Zeto. "The growth of the technology industry in the state was a key deciding factor in the relocation of Proximus Mobility from Naples, Florida to Atlanta, Georgia. We are proud to be part of TAG and grateful for the community it has created for innovative companies like Proximus Mobility."
Proximus Mobility delivers relevant content to consumers' mobile phones at the point of purchase without an app and regardless of phone type. Its technology has the ability to provide customizable hyperlocal mobile marketing solutions to a variety of industries with different use cases. In addition to connecting with customers at the point of purchase, verticals, such as Digital Out-of-Home, have leveraged this form of location based marketing to extend the reach of traditional out-of-home ads and capture consumer data and analytics so vital to their business. "In most cases, when you read about location based proximity marketing ad network s, they are using our technology to power them. Those that are not currently utilizing our solution see the value in our technology and are approaching us to learn more about Proximus Mobility," continued Zeto.
For more information about the Top 40 awards and the Georgia Technology Summit, visit http://www.tagonline.org/georgia-technology-summit.php. Follow the conversation on Twitter through #GTS2012.
About The Technology Association of Georgia (TAG)
The Technology Association of Georgia (TAG) is the leading technology industry association in the state, serving more than 15,000 members and hosting over 200 events each year. TAG serves as an umbrella organization for 30 industry societies, each of which provides rich content for TAG constituents. TAG's mission is to educate, promote, influence and unite Georgia's technology community to foster an innovative and connected marketplace that stimulates and enhances a tech-based economy. The association provides members with access to networking and educational programs; recognizes and promotes Georgia's technology leaders and companies; and advocates for legislative action that enhances the state's economic climate for technology. Additionally, the TAG Education Collaborative (TAG's charitable arm) focuses on helping science, technology, engineering and math (STEM) education initiatives thrive. For more information visit the TAG website at http://www.tagonline.org or TAG's community website at http://www.TAGthink.com. To learn about the TAG-Ed Collaborative visit http://www.tagedonline.org/.
About Proximus Mobility
Based in Atlanta, Proximus Mobility is a location based proximity marketing software company that provides a turnkey, end-to-end solution to Digital Out-of-Home, ATM and Kiosk companies, ad networks, retailers, hotels and casinos, venues, advertising agencies and small to medium sized businesses. This solution offers relevant, high value digital content to consumers' mobile phones near the point of influence or point of sale regardless of the phone type or carrier, with no app needed on the phone. Proximus Mobility enables brands to effectively reach and capture anonymous consumer data and track their customers in the out-of home environment, providing executive level reports and in-depth analytics on dwell times, traffic patterns and behavior profiles. These insights facilitate the advertiser to deliver customized and impactful content based on previous customer interactions and the consumer receives helpful and valuable location-based information and offers completing the value chain. For more information, visit http://www.proximusmobility.com.
###