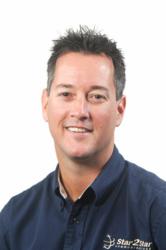 I'm always looking for ways to help our channel partners make more money.
Sarasota, FL (PRWEB) March 13, 2012
Star2Star Communications, makers of "The World's Most Reliable Internet Communications Solution", today announced that Channel Partners magazine has named Star2Star EVP of Sales Colin Johnston as a finalist for Channel Executive of the Year.
The finalists will be honored during an awards ceremony on March 27, at the Spring 2012 Channel Partners Conference & Expo in Las Vegas. The finalists and winner also will be featured in the May/June issue of Channel Partners magazine.
"We're all extremely proud of Colin", said Star2Star CEO Norman Worthington. "He has worked tirelessly to build a unique sales channel to complement our unique product", he continued.
Johnston has worked in the indirect channel for 22 years and served in his current role for four. In that time, he has led initiatives that have brought positive changes to Star2Star's dealers. "I'm always looking for ways to help our channel partners make more money", Johnston said. "We've created a program that allows our partners to lock in high-rate, evergreen commissions that are paid even if the customer is out of contract."
To determine the Channel Executive of the Year, Channel Partners solicited nominations from channel partners. To be eligible, a nominee must have been the top person in the company's channel operations — at the executive level of vice president or higher — at a communications vendor (network operator/service provider/manufacturer). Qualified channel partners then cast their ballots for Channel Executive of the Year based on nominees' leadership, longevity, innovation and contribution to the indirect channel.
About Star2Star:
Founded in 2006 in Sarasota, Florida, Star2Star Communications develops and delivers business-focused Internet communication systems and service. Star2Star's award-winning technology employs a powerful Blended Architecture that overcomes the limitations of other Internet communications technologies. Star2Star delivers innovative features and increased productivity while providing substantial cost savings. During 2011, Star2Star achieved 100% network uptime and was named to both the Inc. 500 and Forbes Most Promising Companies lists.
Star2Star products are sold through a diversified international network of distributors, master agents, and certified installing dealers. Available across North America, Star2Star Internet communication systems are installed in thousands of small- and medium-sized businesses and in many large national retail and restaurant chains.