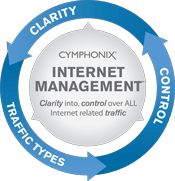 The idea that students can't completely integrate the power of these devices into their learning because they're not allowed to use them off the school's network was a primary concern for us.
Salt Lake City, UT (PRWEB) March 13, 2012
March 13, 2012 – Due to the ease of use and portability of mobile devices like the iPad, more and more K-12 schools are considering and employing 1:1 initiatives. Yet, many are finding 1:1 presents unique challenges to protecting their networks and their students particularly when using iOS devices. Consequently, many schools are facing an ironic situation: the full power of mobile devices received from grants and donations can't be used because the schools have no way to ensure CIPA compliance when devices go home.
In response to this unique challenge, Cymphonix announced today the update to their mobile Internet Management offering with support for iOS devices. Cymphonix Mobile Client with the Secure Web Browser App will be released on April 2, 2012. With the updated release, Cymphonix Mobile Client will make it possible for schools using either iOS or Windows 7 devices to deploy 1:1 models that are secure and CIPA compliant even when the devices go off network.
Mobile Client's Secure Web Browser App provides a Safari browser replacement for Apple iPad, iPhone and iPod Touch devices and incorporates Cymphonix's state of the art content protection technologies, including full HTTP and HTTPS inspection, flexible authentication options, and unified policies. Because Mobile Client integrates with Cymphonix Network Composer implementations, Network Administrators can ensure the use of mobile devices is CIPA compliant.
"While we're seeing a growing number of education customers investigating using iPads in their one to one initiatives, we're also seeing a disturbing trend where schools have access to, but an inability to fully use devices that have been donated or won through grants," stated Brent Nixon, Cymphonix CEO. "The idea that students can't completely integrate the power of these devices into their learning because they're not allowed to use them off the school's network was a primary concern for us. We're excited to provide these schools with a secure and CIPA compliant iOS solution that allows them to take full advantage of enhanced learning opportunities no matter where they happen, whether at school, home or elsewhere."
Cymphonix Mobile Client's Secure Web Browser App enforces a school's Internet Management policies on iOS devices by communicating directly and in real time with the school's Cymphonix Network Composer. Whether a user is on or off network, policies remain in force and CIPA compliance is maintained. Mobile device policy can be customized based on user, device, location or time of day and browser activity is integrated into existing user and device reports to provide a complete picture of all users Internet activity.
The Cymphonix Secure Web Browser App for iPhone/iPod and iPad will launch April 2, 2012 and will be available as a free download from the Apple iTunes® Store in April.
About Cymphonix
Cymphonix helps organizations get clarity into and control over their Internet-bound traffic. As demand for content grows exponentially, network administrators' ability to control and filter content, prioritize traffic and applications, and manage bandwidth is taxed to the extreme. Too often, they must resolve incidences and usage issues by cobbling together information from scattered locations and products. The result? Time and cost-intensive forensics and policy-setting that's rarely based on a true understanding of the who, what, when, and where associated with the content and traffic flowing over their Internet connection. Cymphonix's line of network appliances is a single source solution that allows network administrators to quickly, easily and clearly understand down to the minutest detail what's happening on their connection at any given time, and then easily set and enforce policies across their network. Consequently, they spend less time on incidence response, forensics, and enforcing consistent policy, while gaining full control over content, applications, traffic, and bandwidth. For more information, please visit http://www.cymphonix.com.