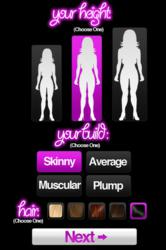 Blind Fate is the handsome hero coming to rescue the princess in the castle from the fire breathing dragons.
(PRWEB) March 13, 2012
Here's an app that was so controversial it took 7 months to get approved. Inertia LLC, a product and software development company has entered the online dating game with their brand new blind dating application, Blind Fate.
The iOS application went public on March 7th, and has already amassed over 2000 users. The unique nature of this application resides in its ability to connect people based on the way they interact with the user interface. Many other dating applications are filled with boring input fields and fake profiles, alternatively, Blind Fate provides users with imagery to assist them in finding their ideal match. Blind Fate also allows users to connect LIVE with one another in order to engage them in an upfront and mysterious manner.
Blind Fate is a mix of chat roulette and Ok-Cupid, minus the nudity from chat roulette (sigh) and minus the humdrum of Ok-Cupid. The app is free for the first 5000 users, and offers a new way of communicating with local singles.
About Inertia
Inertia, keeps the ball rolling. Regardless of the first law of thermodynamics, outside forces do not change Inertia's course of motion. Creativity, passion, and drive propel Inertia's products into the hands of millions of users.
Inertia creates their own products but also develop products for clients. While Inertia's focus is geared towards mobile platforms, they also develop websites, desktop applications, graphics, and marketing strategies. Inertia's team is comprised of well experienced managers who direct their incredibly talented programmers and designers.