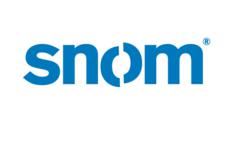 Woburn, MA (PRWEB) March 21, 2012
snom technology AG, a leading developer of IP desktop phones and IP communications solutions, today announced the snom 370 UC edition desktop phone has earned qualification by Microsoft Corp., attaining Qualified for Microsoft Lync status. It marks the third IP phone from snom's UC portfolio to successfully complete the testing process as the company continues to aggressively roll out advanced business phones designed to work with both Microsoft Lync as well as SIP-based IP PBX solutions.
The snom 370 UC edition features a large graphical display and PoE (Power over Ethernet) connectivity, as well as 12 programmable function keys and mini-browser for XML applications. It forms part of snom's growing UC family that also includes the snom 821 UC edition and the snom 300 UC edition, which are both qualified for Lync, as well as the snom UC600, an optimized Lync-only USB endpoint.
"The snom UC portfolio of standards-based IP phones Qualified for Microsoft Lync allows businesses to enhance workforce productivity and collaboration from the desktop," said Giovanni Mezgec, general manager for Lync at Microsoft.
The snom UC portfolio gives businesses expanded functionality beyond traditional voice features by adding support for the productivity-enhancing features included in Lync, such as presence, quick dialing from Lync buddy lists and more.
"We are offering Qualified for Lync products with full IP compatibility, which means businesses can invest in snom IP phones with complete confidence that they will work seamlessly in any SIP-based environment," states Dr. Michael Knieling, snom's COO. "All of our Qualified for Lync devices have been fully approved and tested by Microsoft with a number of other devices scheduled to complete the qualification process very soon."
The snom 370 UC edition is the next in an expanding line of Qualified for Lync devices from snom and is debuting in Booth 737 at Enterprise Connect being held March 26-28, 2012 at the Gaylord Palms in Orlando, Florida. The full snom UC portfolio is on display at the show alongside snom's other IP PBX and SIP products.
To learn more about snom's channel activities in the Americas, go to http://www.snomchannel.com; follow us on Twitter; like us on Facebook; or join our LinkedIn group.
About snom
snom technology AG develops and manufactures VoIP telephones and related equipment based on the IETF open standard, SIP (Session Initiation Protocol). Recognized for its high-quality, customizable and cost-effective business solutions, snom is also differentiated by the company's history in the VoIP industry and its dedication to high security standards. All of snom's products, from desktop phones to IP PBXs, are designed to be fully interoperable with leading communications equipment vendors. snom customers benefit from the interoperability and flexibility that the snom telephones offer, including plug-and-play integration and universal compatibility with any SIP-based telephony platform. In September 2011, the snom 300 and the snom 821 were the first SIP phones which were officially tested and qualified as interoperable with Microsoft Lync by Microsoft.
Founded in 1996 and headquartered in Berlin, Germany, snom technology AG also has offices in Italy, France, the United Kingdom and the US. For more information on snom, please visit http://www.snom.com