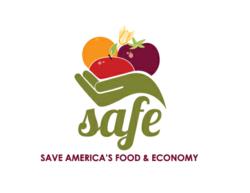 Our farm labor crisis is near doomsday proportions.
Washington, D.C. (PRWEB) March 13, 2012
Save America's Food and Economy (SAFE) President Craig J. Regelbrugge offered a stern warning to members of Congress recently targeted by E-Verify advocates who seem intent on destroying America's farms and rural communities: "Don't let them fool you."
Regelbrugge recently spoke before growers, manufacturers and agriculture experts at the Natural Products Expo in Anaheim, California, shedding light on the food labor crisis crushing farm communities throughout the United States and strangling state economies. He expressed concern that misguided organizations like NumbersUSA, a group fanning the flames of fear and division on the immigration reform debate, will end up causing the destruction of struggling farms and the communities that rely on them.
NumbersUSA recently announced a major advertising campaign targeting Congressional districts, including House Speaker John Boehner's Ohio district, to scare members of Congress into voting for an immediate E-Verify mandate on employers and the economy.
However, thoughtful members of Congress have been working out a solution that would have ensured sensible, market-based provisions for the nation's agricultural workforce. Nearly 70% of farm employees are unauthorized, yet skilled and experienced migrant workers who are responsible for the nation's food production. The current version of E-Verify without a "workable solution for farms," says Regelbrugge, "would effectively kill America's agriculture."
"This is a crisis of near doomsday proportions," warned Regelbrugge. "Congress and the American people won't realize what happened until it is too late." Regelbrugge reminded the audience about Georgia, where the state has lost hundreds of millions in crops and economic activity because of a one-sided state law that has E-Verify at the centerpiece.
SAFE argues NumbersUSA is sabotaging America's food independence and security by threatening Speaker Boehner into forcing passage of Rep. Lamar Smith's (R-TX) "Legal Workforce Act" or H.R. 2885. If passed today without an agricultural solution, over two-thirds of America's skilled farm workforce would disappear almost overnight. The country would find itself relying more on food production from places like China, which has already increased its fruit and vegetable exports to the U.S. by 555% over 10 years, according to the U.S. Department of Agriculture. With 15% of the nation's economy tied to American agriculture, the collapse of American fruit, vegetable, and livestock farms would send more shock waves through an economy already struggling to recover, according to SAFE.
"We support the need to reform a troubled immigration system, with effective enforcement included," said Regelbrugge. "But, let's be smart about it. These groups are playing with fire and risking the economy. Poll after poll shows that the economy and jobs are the number one priority for voters – in fact, only 5% of Americans rank immigration at the top of their list of important issues. So, why is NumbersUSA forcing the issue? And why would Congress let them?"